The time of reckoning approaches for the Constantinople Patriarchate because of its disastrous decisions on Ukrainian Autocephaly, owed mostly to arrogance by Pat. Bartholomew and Karloutsos… 
By Nick Stamatakis
Publicly, Joe Biden announced (in-between …"power naps") in loud voice "sanctions" against Russia in Ukraine and kicked out of DC Russian diplomats.  But in reality, the completely contradictory, counterproductive, and ludicrous American policy in Ukraine has already resulted in major setbacks on all fronts:
A few days ago, after Russian threats, the US canceled the usual deployment of two warships in the Black Sea!!  I remind our readers that there have been many reports of advanced radar and anti-radar capabilities by the Russians in the Black Sea, where Russian fighter jets fly very near American warships. The development of the feared S-400 missile systems is clear evidence of such technological advances by Russia.
Just yesterday Russia announced that it will close the waters surrounding Eastern Ukraine for six months! Ukraine of course cried foul but due to the lack of planning and leadership, EU and NATO will do absolutely nothing. (Below a map of Black Sea waters to be closed by Russia).
Why you haven't heard of this news? You know the answer: Because we are all inundated in "fake news media".  The only thing that you may have heard is that an enormous number of Russian soldiers (over 120,000 total) is already in Crimea or near the border of Eastern Ukraine, fully equipped with tanks, artillery, helicopters, etc., while the most advanced Russian jets are already in Crimea.
In view of all these facts on the ground, poor Joe Biden wants us to believe that he called on the phone Vladimir Putin and he "emphasized the United States' unwavering commitment to Ukraine's sovereignty and territorial integrity…"  Putin could not contain his laughter but Biden kept going and he "…voiced our concerns over the sudden Russian military build-up in occupied Crimea and on Ukraine's borders, and called on Russia to de-escalate tensions…"  But the next day the US pulled the warships out of the Black Sea… Oh, I forgot to mention that Putin kicked more American diplomats out of Russia and some say that he is planning to unite Belarus with Russia on the pretext of American interference there.  So much for accusing Putin of interfering with our elections…
Meanwhile, the possibility of Putin annexing Eastern Ukraine is rising by the hour… When will he find a better opportunity?  Who will oppose him? Biden's NATO? Or the "EU"?  It's laughable… Did anyone notice that the "Nordstream 2" pipeline between Russia and Germany is now 95% finished and soon its operation will mean untold billions of extra income for Russia in addition to rendering Ukraine a mostly useless (geopolitically) and impoverished country? Why would anybody think that Germany will do something to oppose Russia in Ukraine?
Having read numerous analyses internationally I can assure you that most agree that the US (and the West) is shooting herself in the foot with their failed Ukraine policy.  For the last 50 years, the cornerstone of the US foreign policy has been about assuring that Russia was no closer to China than it was to us… Now all this is going down the drain at a time that there is substantial bipartisan agreement on the threat we are faced with from China… In 1941-42 the West allied with a monstrous dictator, a true murderer, Joseph Stalin, in order to defeat Germany and Japan… Now the West is committing suicide by completely alienating someone like Putin who is simply an authoritarian – not a very dangerous to us dictator like Xi Ziping…
Especially in Greece, with its many and usually well-informed geopolitical analysts, this inference is quite widespread (but it was not before the US elections because then many disliked "bad Orangeman" and his "friendship" with Putin!…)  They also note that Erdogan's "alliance" with Russia is coming to an end on all fronts, and especially in Syria and Libya – not to mention that all flights between Russia and Turkey were just canceled (with two exceptions) – a huge blow to Turkey's tourism and economy…
But these same analysts failed to note the upcoming disaster for the Constantinople Patriarchate even in the case of a brief and small-scale war in Ukraine.  In the aftermath of such a war, the eastern part of Ukraine will be annexed to Russia, and on the rest, (assuming that Putin will choose to leave it alone as an independent Ukraine) there will be serious rules imposed, the first of which will regard religious freedom.  Can you guess who will be on the losing side? Yes, it will be the newly "autocephalous" UOC under Met. Epiphanius…
I will stop any further predictions here, as none of them is hopeful for Orthodoxy… Arrogance and advancement of secular political goals unfortunately have taken over our old Orthodox Faith…
YOU CAN READ SOME OF THE LATEST NEWS BELOW…
=============================================
Russia to close parts of Black Sea near Crimea for six months
Ukraine and the EU condemn Russia's decision to restrict the navigation of foreign military and official ships.
Ukraine and the EU condemn Russia's decision to restrict the navigation of foreign military and official ships.
Russia will restrict the navigation of foreign military and official ships in parts of the Black Sea until October, according to a Russian news agency, prompting swift condemnation by Ukraine and the European Union.
The announcement on Friday comes amid tensions between Moscow and Kyiv that have escalated in recent weeks after an uptick in fighting between Ukraine's army and pro-Russia separatists in eastern Ukraine.
Russia has massed its troops along Ukraine's northern and eastern borders and on the Crimean peninsula, which Moscow annexed from Ukraine in 2014. This week Russia also conducted navy drills in the Black Sea.
"From 21:00 on April 24 until 21:00 on October 31, passage through the territorial sea of the Russian Federation for foreign military ships and other state vessels will be halted," the state-run RIA Novosti news agency cited a defence ministry statement as saying on Friday.
The restrictions will affect the western tip of Crimea, the peninsula's southern coastline from Sevastopol to Hurzuf, and a "rectangle" off the Kerch peninsula near the Opuksky Nature Reserve.
A senior EU official described the move as a "highly worrying development".
The move contradicts norms of free maritime passage and international law and adds to tensions around "the military buildup on the other side of the Russian border with Ukraine", the official told the AFP news agency.
Rising tensions
The official said that the restrictions would increase tensions as Russia was "taking unilateral measures on an international space".
One of the areas affected by Russia's restrictions is located near the Kerch Strait, which connects the Black Sea to the Sea of Azov and is of crucial importance for the export of grain and steel from Ukraine.
The Kerch Strait became a scene of confrontation in 2018 after Russia seized three Ukrainian ships there over alleged violations of its territorial waters.
Ukraine had been free to navigate the Kerch Strait along with Russia until 2014, when Moscow claimed full control of the waterway after annexing Crimea.
The Kerch Strait is also the site of a costly 19-km (12-mile) bridge connecting Crimea with mainland Russia that Moscow opened in 2018.
Ukraine's foreign ministry on Thursday criticised the navigation restrictions, which were initially reported without specifics earlier this week, as a "usurpation of the sovereign rights of Ukraine".
It also stressed that under the UN Convention on the Law of the Sea, "Russia must neither obstruct nor halt transit through the international strait to ports in the Sea of Azov."
============================================
US Cancels Deployment of Warships to Black Sea
Russia warned against the provocation on Tuesday
Posted onCategories
The US has canceled a planned deployment of two US Navy destroyers to the Black Sea, Turkish officials and media reports said on Wednesday.
The US frequently sends warships into the Black Sea, but the planned deployment that Turkey announced last week would have come against the backdrop of heightened tensions in the region between Russia and Ukraine. On Tuesday, Russia warned against the deployment.
According to AFP, Turkish diplomatic sources said a US warship was expected to pass through the Bosphorous Strait, which connects the Black Sea and the Sea of Marmara, on Wednesday, but the passage did not occur.
Turkey's Anadolu Agency said both deployments, which were scheduled for Wednesday and Thursday, were canceled and so far have not been rescheduled.
The Black Sea is a sensitive area for Russia-Ukraine relations, and the US and NATO are both looking to increase their presence in the waters to show support for Kyiv. In January, the US sent three warships into the Black Sea.
The cancellation came after President Biden spoke on the phone with Russian President Vladimir Putin on Tuesday. In the call, Biden proposed an in-person meeting with Putin, a surprising offer of diplomacy from Washington. Over the past few months, the Biden administration has been incredibly hawkish towards Moscow through actions like sanctions and increasingly hostile rhetoric
Published at news.antiwar.com
=======================================
Biden's Russia policy ludicrous, unbelievable, contradictory & unprecedented: First offers Putin summit & then imposes sanctions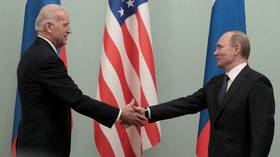 Just a month ago, US President Joe Biden indicated he believes his Russian counterpart, Vladimir Putin is a "killer." But on Tuesday, he spoke to the 'killer' by phone and proposed that the pair meet for a face-to-face summit.
A few weeks is clearly a long time in politics.
So too, it seems, is a couple of days.
For on Thursday, Kremlin spokesman Dmitry Peskov declared that a summit between Biden and Putin would not go ahead in the near future. That does not mean that Moscow has definitively rejected a meeting at some point later, but it is clear that the Kremlin is not inclined to indulge Biden for now.
Peskov's statement followed news that the United States was about to unveil a new set of economic sanctions against Russia, including measures to prevent American financial institutions from buying Moscow's sovereign debt. The US also expelled ten Russian diplomats.
Consistency is generally a good thing. Sadly, US policy toward Russia appears to be decidedly inconsistent, offering an olive branch one day and then hitting with a big stick the next. From a Russian point of view, it must look two-faced, and consequently perhaps even worse than if it was straightforwardly hostile. What explains the mixed signals coming from Washington?
The basic starting point is that the US government views Russia as an aggressive challenger to the US-dominated world order. In addition, the Democratic party, which now holds both the presidency and Congress, is convinced that Russia, and Vladimir Putin specifically, was responsible for the election of Donald Trump in 2016. Domestic American politics do not allow for anything other than a hostile policy towards Russia. This is the new default position.
Thus the US intelligence community's latest Annual Threat Assessment devotes an entire chapter to "Russian provocative actions". This declares that, "Moscow will employ an array of tools – especially influence campaigns, intelligence and counterterrorism cooperation, military aid and combined exercises, mercenary operations, and arms sales – to advance its interests or undermine the interests of the United States and its allies."
It follows from this that the US must hit back against Russia in order to punish it for its aggression, and to deter it from further actions.
In this context, Biden's phone call and offer to normalize relations is rather out of place. One possible explanation for it is Ukraine. The war in Donbass between the Ukrainian government and the rebel Donetsk and Lugansk People's Republics has gotten substantially hotter since the start of the year, with both sides breaking the ceasefire on a regular basis. Ukraine is alleged to have moved additional heavy equipment close to the front lines. Meanwhile, Moscow has been holding military exercises close to the Ukrainian border, possibly to deter Ukraine from launching an all-out assault on the rebels.
As a result, Western media and politicians have suggested that Russia might launch a surprise attack on Ukraine, while commentators on the Russian side have instead pointed the finger of blame at the USA, accusing it of egging the Ukrainians on. Tuesday's phone call might suggest that Biden has blinked. Having allegedly pushed the Ukrainians to take a hard line against Russia, the United States has faced the reality of a tough Russian response, and decided to back off and calm things down.
As a result, Western media and politicians have suggested that Moscow might be preparing its own surprise attack on Ukraine, while commentators on the Russian side have instead pointed the finger of blame at the US, accusing it of egging the Ukrainians on. Tuesday's phone call might suggest that Biden has blinked. He may view Russia as a threat, but he doesn't want war. Having allegedly pushed the Ukrainians to take a hard line against Moscow, the United States has faced the reality of a tough Russian response, and decided to back off and calm things down.
In other words, Biden views Russia as an enemy, and is determined to push a hard line against it. But he doesn't want war. Nor is there any evidence that he ever wanted to push Ukraine into a war with Russia – this is more of a fantasy of Russian TV talk show pundits than any sort of reality. The phone call and summit offer may be seen as a form of crisis management, walking the world back from the brink, but not as an indication of any significant change in overall policy.
The Kremlin's unwillingness to immediately accept the summit offer is understandable. Moscow will no doubt be pleased that Biden appears to be trying to de-escalate the situation, but it is probably also deeply sceptical about the prospects of a summit meeting producing concrete results. If Biden can convince the Kremlin that he is serious about reaching agreement on specific issues, then its attitude will no doubt change. But for now there is little to be gained by the prospect of being lectured at and faced with threats and demands.
In any case, although the Russian government would no doubt favour a real dialogue, it's not desperate for it. The United States appears not to fully appreciate how the world has changed in recent years, and the extent to which its former levers of power no longer work. The proposed sanctions on Russian sovereign debt are a case in point. There was a time when Russia would have been frightened by losing the prospect of accessing American money. Now, though, it no longer needs it. Not only does it hardly have any debt, but it also has access to other lenders, including both international and domestic ones.
Russia's response to the summit offer suggests that Russia is willing to talk, but only on terms of equality. America, however, seems to think that it can force Russia to the negotiating table on its own terms. This is a profound mistake. The only question is how long it will take the Americans to realize it.