EDITOR'S NOTE (Nick Stamatakis). In this very interesting piece of news a clearly scandalous situation is presented: a prominent priest's presbytera keeps participating for the past few years in "pride month".   You can read a well stated argument why such an act is NOT part of the Orthodox Church's teaching.  Meanwhile, would Met. Alexios take some position on the issue – if not some action? 
===================================
SOURCE: ORTHODOXYTODAY.ORG
Mari Iakovou Mars Proudly and Publicly Celebrates LGBTQ Pride Month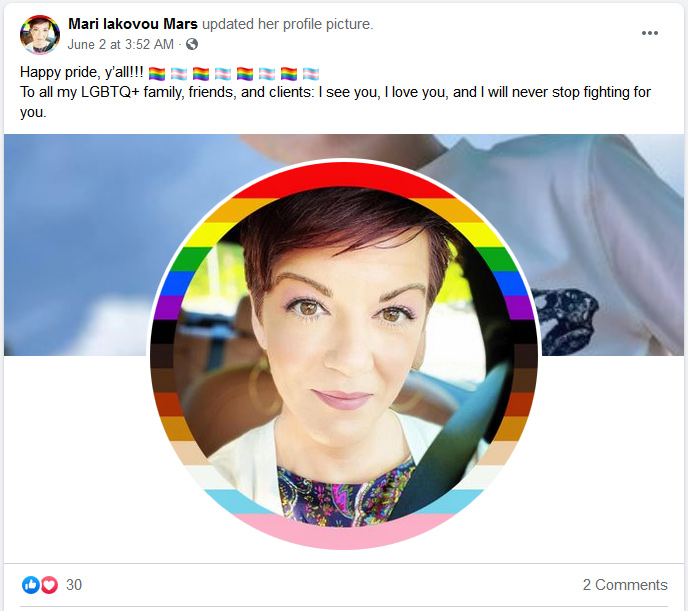 by Jennifer Davis –
As she has done in previous years, Presbytera Mari Iakovou Mars is enthusiastically, proudly and publicly celebrating and promoting homosexual, lesbian, bisexual, transgender, and queer pride for LGBTQ Pride Month this year also.
On her Facebook page, on June 2, 2021 Mars wrote:
"Happy pride, y'all!!! To all my LGBTQ+ family, friends, and clients: I see you, I love you, and I will never stop fighting for you."
Mars is the wife of an active Orthodox priest in the Greek Orthodox Archdiocese of America (GOAA).
Mars, Presbytera Mari Marilisse, is married to Fr. Christos P. Mars who currently serves at Annunciation Greek Orthodox Cathedral in Atlanta, Georgia. Fr. Mars is a prominent Presbyter of the GOAA: he's Vice-President of the Metropolis of Atlanta Clergy Syndesmos and President of the Atlanta Orthodox Clergy Brotherhood.
On June 3, 2021, Presbytera Mars followed up her Happy Pride message, with another Facebook post celebrating Pride Month. The rainbow graphic she shared publicly contained this message:
"with june being pride month, i wanted to take the occasion to clearly say this:

i unhesitatingly & wholeheartedly support my lesbian, gay, bi-sexual, transgender, and queer friends, their rights, their marriages, their pursuit of happiness and their breath.

this is also true july thru may."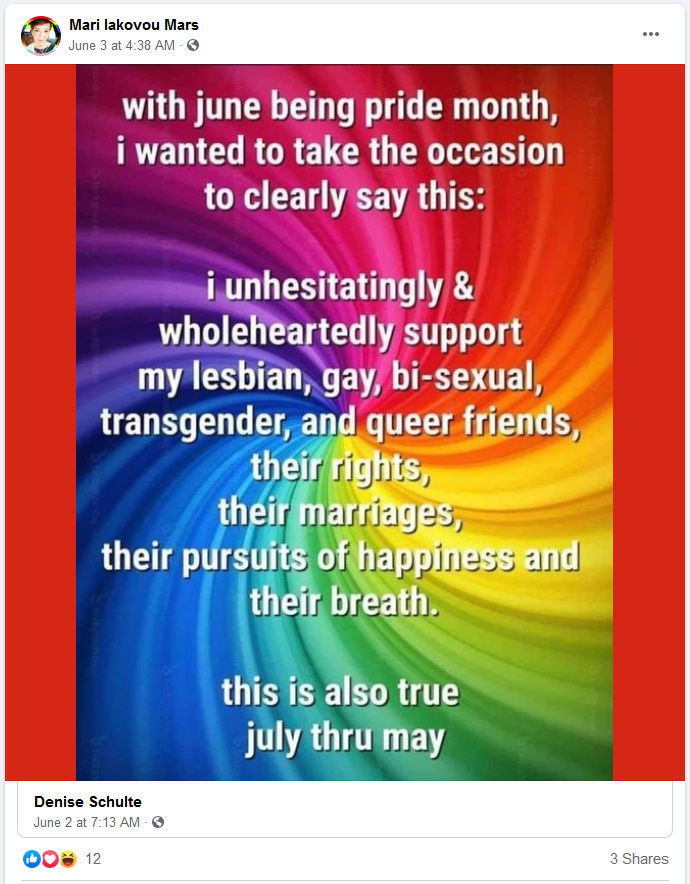 In 2020, Presbytera Mars similarly promoted and honored LGBTQ Pride Month with this "Happy Pride to everyone" post: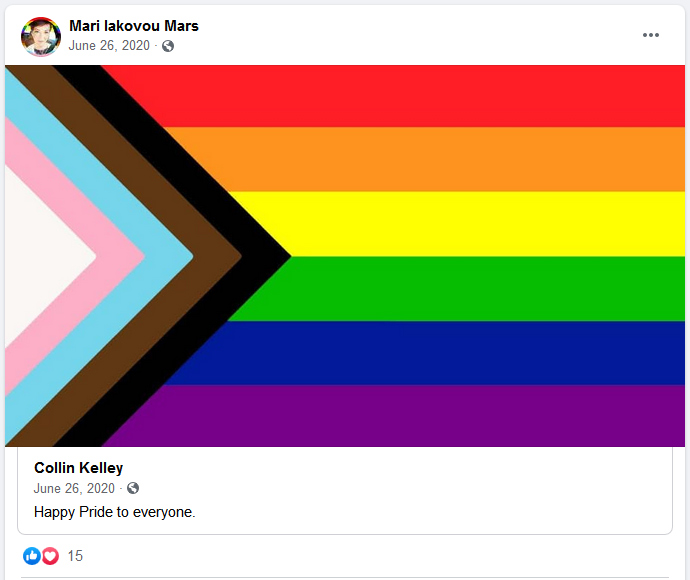 In 2019, Presbytera Mars also celebrated and paid tribute to LGBT Pride Month:
"Breaking my hiatus just long enough to say HAPPY PRIDE!!!!!!!!

To my LGBT+ friends, it takes a remarkable amount of courage and strength to move through the world every day saddled with the struggle you endure – the fight for your rights, the objectifying "discourse" (especially in religious circles), the threats of physical violence, the shaming, the isolation, the shunning, the hiding, the forced silence, the forced celibacy, the lack of control over your bodies and your lives, the lack of choices…

I admire you. Deeply. I honor your courage and strength. I respect your autonomy. I hope with you. I fight with you. I listen with no judgment. And I love you – with no conditions or expectations, no gate-keeping, no requirements to pass. Just love.

I wish you a Happy Pride filled with peace, tranquility, joy, and love."

Coming from the wife of an Orthodox priest these posts are extremely inappropriate. They scandalize the Orthodox Church.
Mars is free to express herself in any manner she likes. But, she is also a Presbytera and holds a visible, privileged and influential leadership position within the Greek Orthodox church. When she repeatedly contradicts the Orthodox Church teachings and theology on human nature and biology, sexuality, sin, marriage and family, Mars makes a mockery of the Orthodox Church and the GOAA hierarchy.
Gail Sheppard, a frequent contributor to the Monomakhos blog, summarized the scandalous situation Presbytera Marilisse (Mari Iakovou Mars) has caused with her zealous support of LGBTQ ideas that defy the unchanging teaching of the Orthodox Church (see Comments area):
It was scandalous because a woman, married to a priest in our Church, either knows next to nothing about the Orthodox Faith or has chosen to speak against it. That she is "nice" is immaterial. A lot of people are "nice." But a Presbytera, at the very minimum, should be able and willing to support the Church.

It is NOT Church teaching:

(1) To define people by their struggle. One person's struggle does not take more or less courage and strength than another's.

(2) To be concerned with a person's rights. We are taught to respect our civil authorities in all things, regardless of whether or not our "rights" are impinged upon.

(3) To be concerned with objectifying "discourse." We are taught that like Christ, we will be humiliated, spit upon and called all manner of things. There are people in other parts of the world who are dying for the Faith. The words of this matushka should be reserved for them. Not people who choose to live a non-Christian lifestyle and flaunt it in a parade.

(4) To argue against celibacy when it concerns sex outside of marriage.

(5) To say that people should have complete control of their bodies. The Church teaches us that God created us man and woman and we are to honor that.

(6) To indicate we should have choices over the way we live. To be a Christian, there is but one choice: to accept and struggle toward leading a Christian lifestyle.

(7) To suggest one should have autonomy. We are taught when we enter the Church, we lose our autonomy to become part of the Body of Christ. Because our sin negatively impacts our brothers and sisters in Christ, we are expected to live our lives in a way that honors and serves others, not ourselves.

(8) To say there are no conditions, expectations or requirements. To live a sacramental life in the Church, there are many of both.
While her husband serves at the altar and she benefits from the honor, authority and influence that her status as Presbytera conveys, Mars willingly propagandizes the LGBTQ agenda and fuels outright rebellion inside the Orthodox Church. Her words and actions can sway many innocent and confused souls, particularly impressionable children, teenagers and young adults who trust and can be easily manipulated by those in positions of authority, especially the wife of an Orthodox priest.
Shamefully, all the GOAA bishops and metropolitans have ignored Presbytera Mars' many scandalous comments and have never challenged or denounced her outrageous public posts. The entire hierarchy of the Greek Orthodox Archdiocese of America remains silent and complicit in this travesty, for the third year in a row.