SOURCE – NEWSBREAK.GR
Shock data from EUROSTAT
Eurostat has just published data on the trade balance of EU countries for the month of May. The evidence is a real shock.
If we look at the figures for trade relations with Russia from January to May 2022 (the column in red) versus the same period in 2021 (the column in blue), we see a huge jump in favor of Russia. All this, despite Europe's harsh sanctions against Putin that were supposed to bring the Russian economy to its knees.
Apparently, Europeans believe that money brings destruction…
The biggest jump in payments to Russia for oil and gas is from Italy. However, the corresponding increase in Greece's payments is twice as much!
In other words, Kyriakos Mitsotakis, who is supposed to have played a leading role in the sanctions against Russia, the shipment of weapons, in the hostile statements that destroyed the traditionally friendly relations between the two countries, has "made Putin crazy" in terms of money…
The ingratitude of Vladimir Putin is also revealed. So many billions from leaders like Draghi and Kyriakos, and he hasn't sent them a single bouquet of flowers… Unless bouquets from Russia are banned too, due to sanctions.
======================
Στοιχεία – σοκ από την EUROSTAT
Η Eurostat μόλις δημοσίευσε στοιχεία του ισοζυγίου εμπορικών συναλλαγών των χωρών της ΕΕ για τον μήνα Μάιο. Τα στοιχεία είναι ένα πραγματικό σοκ.
Αν κοιτάξουμε τα στοιχεία που αφορούν τις εμπορικές σχέσεις με την Ρωσία από τον Ιανουάριο έως τον Μάιο του 2022 (η στήλη με κόκκινο) έναντι της ίδιας περιόδου του 2021 (η στήλη με μπλε), παρατηρούμε ένα τεράστιο άλμα υπέρ της Ρωσίας. Όλα αυτά, παρά τις σκληρές κυρώσεις της Ευρώπης κατά του Πούτιν που υποτίθεται ότι θα γονάτιζαν την ρωσική οικονομία.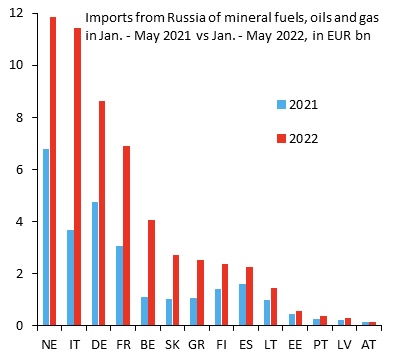 Το μεγαλύτερο άλμα στις πληρωμές στη Ρωσία για πετρέλαιο και φυσικό αέριο είναι από την Ιταλία. Διπλάσια όμως είναι και η αντίστοιχη αύξηση πληρωμών της Ελλάδας!
Δηλαδή, ο Κυριάκος Μητσοτάκης που υποτίθεται ότι πρωταγωνίστησε στις κυρώσεις κατά της Ρωσίας, στην αποστολή όπλων, στις εχθρικές δηλώσεις που κατέστρεψαν τις παραδοσιακά φιλικές σχέσεις των δύο χωρών, έχει «τρελάνει» τον Πούτιν στο χρήμα…
Εδώ αποκαλύπτεται και η αχαριστία του Βλαντίμιρ Πούτιν. Τόσα δισεκατομμύρια από ηγέτες όπως ο Ντράγκι και ο Κυριάκος και δεν τους έχει στείλει ούτε μία ανθοδέσμη… Εκτός εάν απαγορεύονται και οι ανθοδέσμες από την Ρωσία, λόγω κυρώσεων.