EDITOR'S NOTE (Nick Stamatakis): In one more futile effort to legitimize Metropolitan of 20% of Ukrainian Orthodox, Epiphanios, Pat. Bartholomew, accompanied by AB of Greece Ieronymos, is on a 6-day visit to Kavala and Thassos… Nevermind that half the Orthodox Churches globally representing about 75% (or more) of Orthodox faithful have rejected him; nevermind his continued rebuke by 17 of the 20 monasteries of Mount Athos; nevermind that soon he may be the Metropolitan of NO Ukraine, as the Russians are expected to advance further… Pat. Bartholomew, acting in the same deranged way as the rest of the western leadership, pretends that all is good and normal…
As I have said many times, Met. Epiphanios will likely end up here and expect his salary to be paid for the rest of his young life…
========================================
SOURCE – VIMAORTHODOXIAS.GR
Η ΙΣΤΟΡΙΚΗ ΕΛΕΥΣΗ! ΒΗΜΑ ΟΡΘΟΔΟΞΙΑΣ 
Η κοινή παρουσία των τριών Προκαθημένων είναι σαφέστατο ότι έχει ως κύριο στόχο να … νομιμοποιήσει τον Επιφάνιο ως τον Κανονικό μητροπολίτη Ουκρανίας με ότι αυτό συνεπάγεται σε εκκλησιαστικό και πολιτικό επίπεδο !
Ο Οικουμενικός Πατριάρχης κ.κ. Βαρθολομαίος με τον Αρχιεπίσκοπο Αθηνών και πάσης Ελλάδος κ. Ιερώνυμο και τον Μητροπολίτη Κιέβου και πάσης Ουκρανίας κ. Επιφάνιο, μαζί με τον Μητροπολίτη Βινίτσης κ. Συμεών από την Εκκλησία της Ουκρανίας, μετά την άφιξη του Παναγιωτάτου στο αεροδρόμιο της Καβάλας σήμερα Σάββατο 3 Σεπτεμβρίου 2022!
Η ΠΑΝΗΓΥΡΙΚΗ ΔΟΞΟΛΟΓΙΑ !!!
Με πανηγυρική Δοξολογία που τελέστηκε στον περικαλλή και ιστορικό Ιερό Ναό Κοιμήσεως της Θεοτόκου, στην κοινότητα Παναγίας, χτισμένο το 1831, υποδέχθηκε το νησί της Θάσου τον Οικουμενικό Πατριάρχη κ.κ. Βαρθολομαίο, τον Αρχιεπίσκοπο Αθηνών και πάσης Ελλάδος κ.κ. Ιερώνυμο και τον Μητροπολίτη Κιέβου κ.κ. Επιφάνιο.
Στο λιμάνι της Θάσου έφτασε λίγο πριν τη 1:00 το μεσημέρι ο Παναγιώτατος, ο οποίος πραγματοποιεί από σήμερα επίσημη εξαήμερη επίσκεψη στις Ιερές Μητροπόλεις Φιλίππων, Νεαπόλεως και Θάσου, και Μαρωνείας και Κομοτηνής, κατόπιν προσκλήσεων των Σεβασμιωτάτων Ποιμεναρχών τους.
Τον Παναγιώτατο συνοδεύουν οι Σεβασμιωτάτοι Μητροπολίτες Κυδωνιών κ. Αθηναγόρας και Καστορίας κ. Καλλίνικος, ο Θεοφιλέστατος Επίσκοπος Ξανθουπόλεως κ. Παΐσιος, ο Πανοσιολ. Μ. Εκκλησίαρχης κ. Αέτιος, ο Ιερολ. Πατριαρχικός Διάκονος κ. Ιερώνυμος Σωτηρέλης, ο κ. Νικόλαος-Γεώργιος Παπαχρήστου, Διευθυντής του Πατριαρχικού Γραφείου Τύπου και Επικοινωνίας, και οι κύριοι Παναγιώτης Γραφιαδέλης και Γεώργιος Ζεϊτινλού, εκ των υπαλλήλων του Πατριαρχείου.
Πατριαρχικός Επίτροπος ορίστηκε ο Σεβασμιώτατος Μητροπολίτης Γέρων Δέρκων κ. Απόστολος, ο οποίος μαζί με τον Πανοσιολ. Μ. Πρωτοσύγκελλο κ. Θεόδωρο προέπεμψαν τον Παναγιώτατο από το αεροδρόμιο της Πόλης.Την κυβέρνηση εκπροσώπησε στις εορταστικές και λατρευτικές εκδηλώσεις ο υπουργός Εθνικής Αμύνης Νίκος Παναγιωτόπουλος.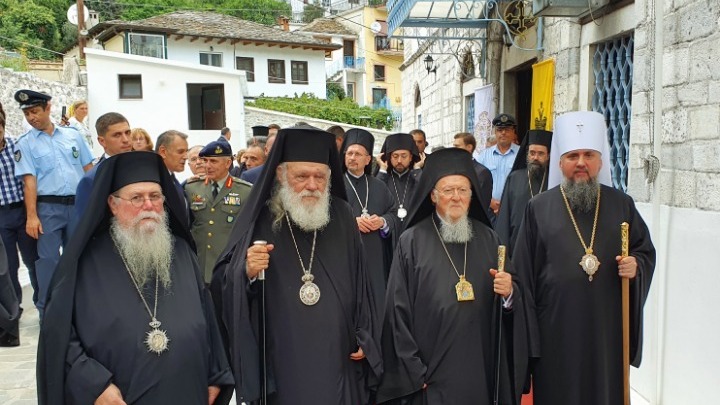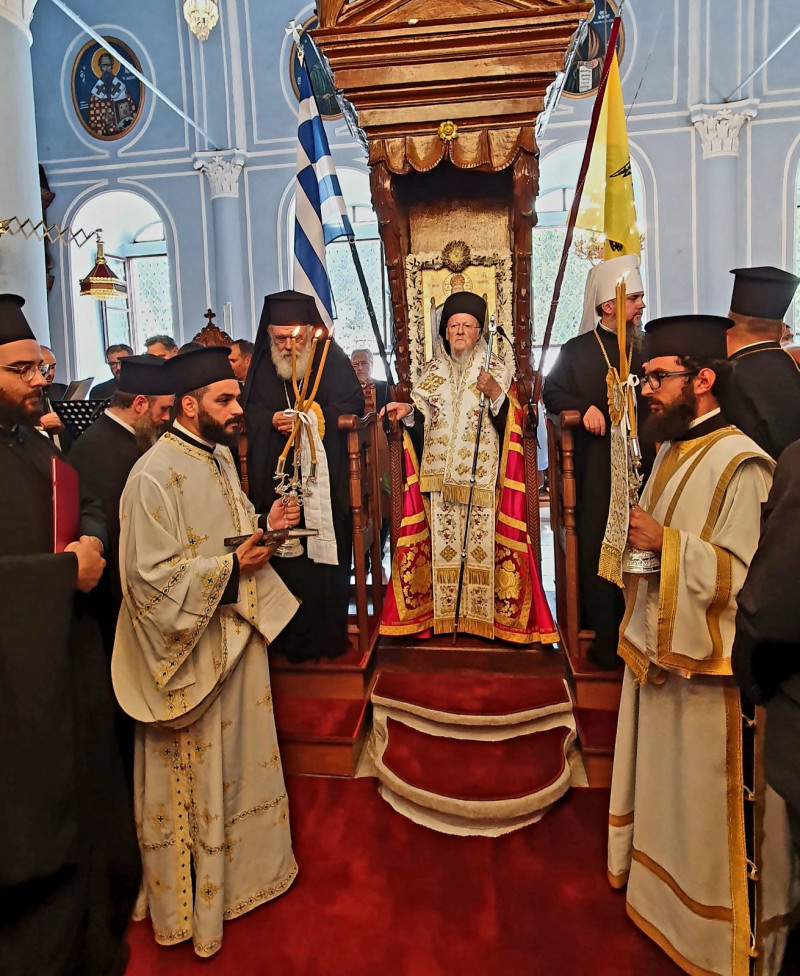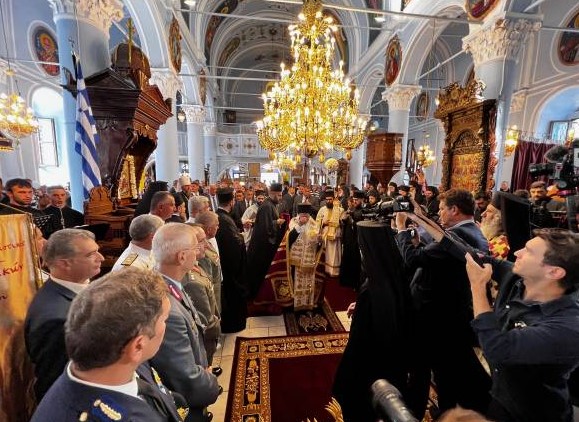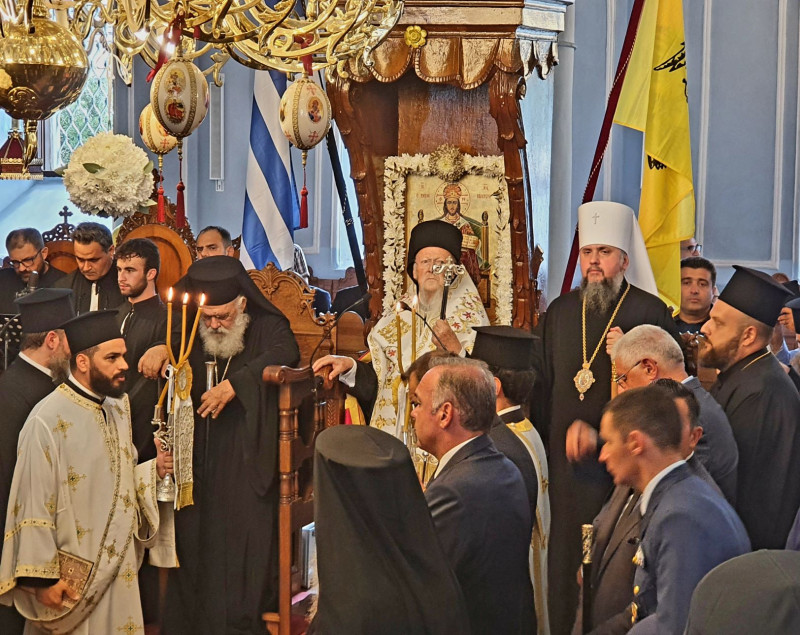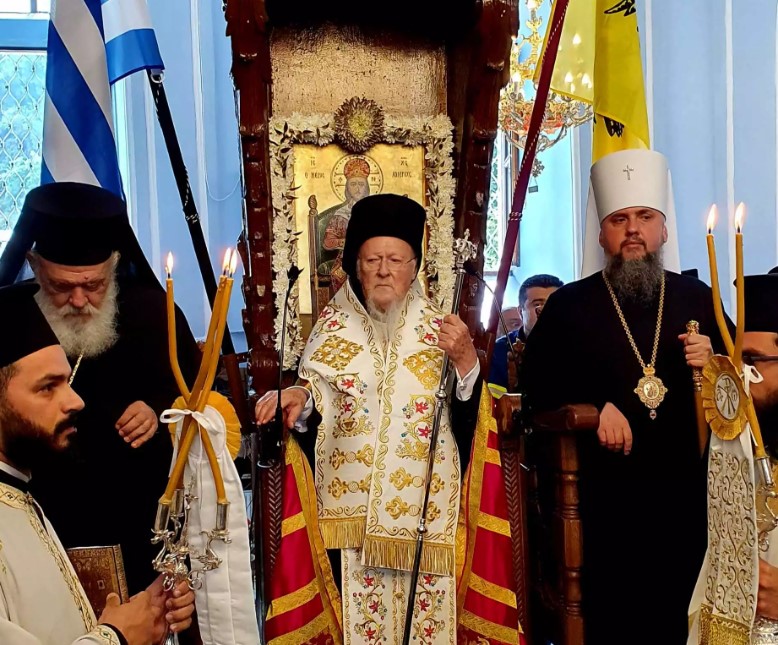 Η ΑΦΙΞΗ!!!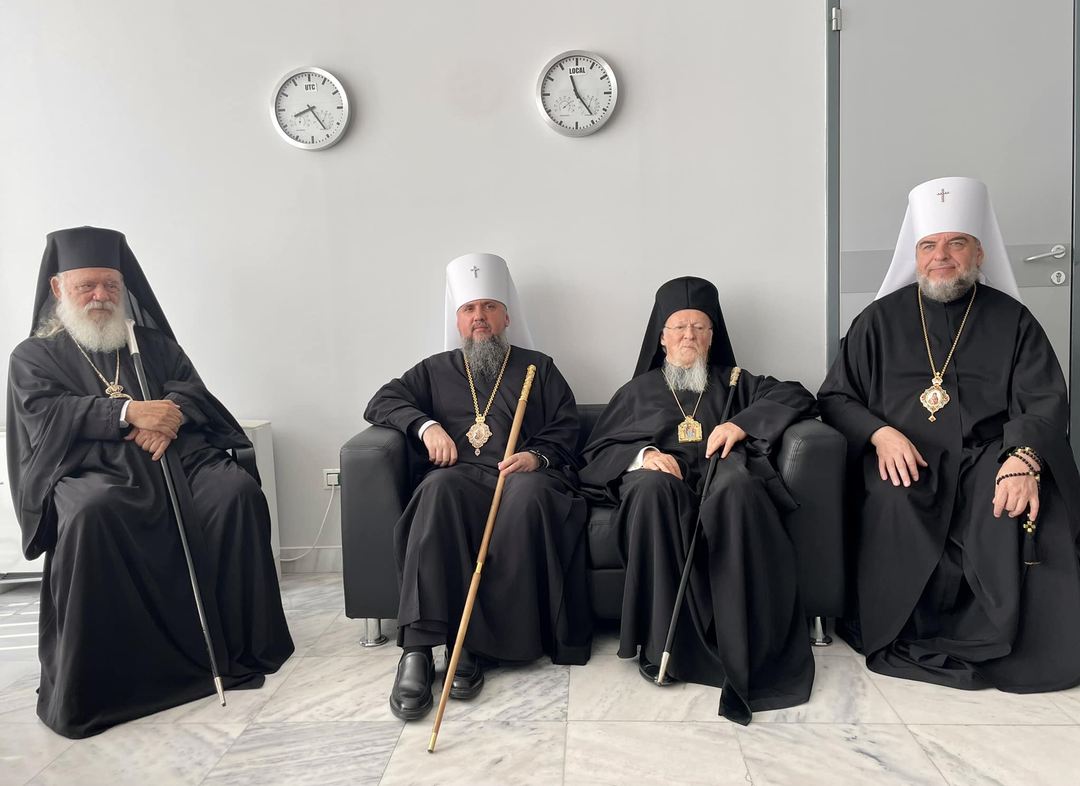 =========================
THE HISTORIC ARRIVAL!
The joint presence of the three Primates is very clear that its main goal is to … legitimize Epiphanios as the Canonical Metropolitan of Ukraine with what this entails at the ecclesiastical and political level!
The Ecumenical Patriarch Bartholomew with the Archbishop of Athens and all Greece Ieronymos and the Metropolitan of Kiev and all Ukraine Epiphanios, together with the Metropolitan of Vinitsa Simeon from the Church of Ukraine, after the arrival of His Holiness at Kavala airport today, Saturday, September 3, 2022 !
THE CELEBRATION OF GLORY !!!
With a solemn Doxology held in the surrounding and historic Church of the Dormition of the Virgin, in the community of Panagia, built in 1831, the island of Thassos welcomed the Ecumenical Patriarch Mr. Bartholomew, the Archbishop of Athens and all Greece, etc. Hieronymus and the Metropolitan of Kiev, Epiphanios.
His Holiness arrived at the port of Thassos shortly before 1:00 p.m. His Holiness, who from today is making an official six-day visit to the Holy Metropolises of Philippi, Neapolis and Thassos, and Maroneia and Komotini, following the invitations of their Reverend Pastors.
His Holiness is accompanied by the Most Reverend Metropolitans of Kydonia Athenagoras and Met. Kallinikos of Kastoria, the Most Reverend Bishop of Xanthoupolis Paisios, Panosiol. M. Ecclesiarch Aetios, the Hierol. Patriarchal Deacon Mr. Hieronymos Sotirelis, Mr. Nikolaos-Georgios Papachristou, Director of the Patriarchal Press and Communication Office, and Mr. Panagiotis Grafiadelis and George Zeitinlou, from the employees of the Patriarchate.
The Patriarchal Commissioner was appointed the Most Reverend Metropolitan of Geron Derkon, Mr. Apostolos, who together with Chancellor Theodoros escorted His Holiness from the airport of the city. The government was represented at the festive and religious events by the Minister of National Defense Nikos Panagiotopoulos.