EDITOR'S NOTE (Nick Stamatakis): For a few days, I collected items from what I saw online to write an analysis of the current situation in Ukraine.  But last night, the beginning monologue by Tucker Carlson covered most of my points and then some (A must-watch video – in case you missed it)…
You can read some major pieces of news below. I will only add one comment about Mitsotakis, who proclaimed (while he has no business to do so, who is he?) that "We are in war with Russia", while President Macron and the German leadership declared the exact opposite "We are not in a war with Russia", which is a big lie…
Enjoy the exceptional monologue!
==============
Zelensky responds to Putin's nuclear warning
The world won't "allow" Moscow to use the nuclear option, the Ukrainian leader told Germany's Bild tabloid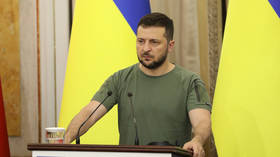 Ukrainian President Vladimir Zelensky has said he "does not believe" Moscow could resort to the nuclear option in its ongoing conflict with his country, he told Germany's Bild tabloid on Wednesday.
Zelensky added that Kiev's own military plans remain unchanged.
"I do not believe that he [Russian President Vladimir Putin] will use these weapons," Zelensky told Bild when asked about a potential nuclear strike against his nation.
"There are risks," he told Bild, though, arguing that he "cannot get" into Putin's head.
Zelensky also accused Russia of nuclear blackmail, adding that one should not give in to Moscow's threats. He also claimed that Russia could then potentially demand "a part of Poland" and threaten to use nukes as well.
So far, Kiev's strategy remains unchanged, Zelensky said. "We will act according to our plans step by step. I am sure we will liberate our territory," he added. The president also blasted the upcoming referendums on joining Russia that the Donbass republics are about to hold.
Zelensky branded the voting "sham referendums," adding that most nations around the world "will not recognize them."
His words came as Putin announced a partial military mobilization, describing the move as sensible and necessary due to the military campaign in Ukraine.
Russia sent troops into Ukraine on February 24, citing Kiev's failure to implement the Minsk agreements, designed to give the regions of Donetsk and Lugansk special status within the Ukrainian state. The protocols, brokered by Germany and France, were first signed in 2014. Former Ukrainian president Pyotr Poroshenko has since admitted that Kiev's main goal was to use the ceasefire to buy time and "create powerful armed forces."
In February 2022, the Kremlin recognized the Donbass republics as independent states and demanded that Ukraine officially declare itself a neutral country that will never join any Western military bloc. Kiev insists the Russian offensive was completely unprovoked.
============================
Putin Orders Partial Mobilization, Issues Nuclear Threat to West
The Russian leader expressed support for referendums and said a peace deal was possible earlier in the war but was sabotaged by the West
by Dave DeCamp
Posted on
CategoriesRussian President Vladimir Putin on Wednesday ordered a partial mobilization that will call up 300,000 reservists and warned Western countries that Moscow would use nuclear weapons to defend its territory.
The move marks Putin's biggest escalation of his war in Ukraine since launching the invasion on February 24, although he is still framing the war as a "special military operation."
"If the territorial integrity of our country is threatened, we will without doubt use all available means to protect Russia and our people — this is not a bluff," Putin said in a televised address.
"The citizens of Russia can rest assured that the territorial integrity of our Motherland, our independence, and freedom will be defended — I repeat — by all the systems available to us. Those who are using nuclear blackmail against us should know that the weathervane can turn around," he said.
Putin didn't specify the number of reservists that will be activated under the partial mobilization, but the Kremlin later clarified it will be 300,000, which Defense Minister Sergey Shoigu recommended. Putin said Russia will call up "Only those citizens who are currently in the reserve and primarily those who served in the army and have particular military specialties."
The Russian leader expressed support for referendums on joining Russia that will be held in each area of Russian-controlled Ukraine from September 23-27, which were announced on Tuesday. Referendums will be held in the self-declared Donetsk and Luhansk republics in the Donbas region, and in the oblasts of Kherson and Zaporizhzhia.
"I would like to emphasize that we will do everything necessary to create safe conditions for these referendums so that people can express their will. And we will support the choice of future made by the majority of people in the Donetsk and Luhansk people's republics and the Zaporizhzhia and Kherson regions," Putin said.
Putin made clear that he blames the US and its allies for the current situation and said a peace deal was possible earlier in the war after Russian and Ukrainian negotiators held talks in Istanbul. He said that he was making the details of the peace talks public for the first time.
"After the start of the special military operation, in particular after the Istanbul talks, Kyiv representatives voiced quite a positive response to our proposals. These proposals concerned above all, ensuring Russia's security and interests," he said.
Reports in Western media and Ukrainian media have also said that a deal was close after the Istanbul talks, which were held at the end of March. But according to a report from Ukrainska Pravda, former British Prime Minister Boris Johnson traveled to Kyiv in April and told Ukrainian President Volodymyr Zelensky that even if he was ready to sign a deal with Putin, the collective West was not.
"A peaceful settlement obviously did not suit the West, which is why, after certain compromises were coordinated, Kyiv was actually ordered to wreck all these agreements," Putin said.
The Russian leader said that Washington, London, and Brussels were now "openly encouraging Kyiv to move the hostilities to our territory." After Ukraine launched its successful counteroffensive in the northeastern Kharkiv region, shelling was reported in Belgorod, the Russian region that borders the area.
Putin said that the focus will remain on "liberating" the Donbas region. Russia and Russian-backed forces in the region currently control virtually all of the Luhansk oblast, but Ukraine still controls a portion of Donetsk.
===================
Macron suggests how Ukrainian conflict should end
A negotiated peace is the only solution to the crisis, the French leader insists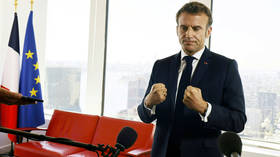 The conflict between Russia and Ukraine "will only end at the negotiating table," French President Emmanuel Macron has said.
Macron called for a "negotiated peace" between the neighbors during an interview on Thursday with BFM TV aboard his plane returning from the UN General Assembly session in New York.
Russia's Foreign Minister Sergey Lavrov said earlier this month that Moscow "didn't reject" the idea of talks with Kiev, but warned that the longer the Ukrainian side delayed them, the harder it would be for common ground to be found.
Speaking about the Western role in the conflict in Ukraine, Macron insisted that "our duty is to hold our line." And that line, according to him, is "helping Kiev to protect its territory and never to attack Russia."
Russian President Vladimir Putin announced a partial mobilization in Russia on Wednesday, citing the fact that the country has been fighting "the entire Western military machine" in Ukraine. The US and its European allies are openly pursuing a military defeat of Russia, seeking to push the country into insignificance and to loot its natural wealth, the Russian president said. But, according to Putin, Moscow is ready to "use all the means that we have" to protect its people and territory.
Macron said in response to Putin's statements that by announcing a partial mobilization of its military reserves, Russia has decided "to take a step towards escalation," while also trying to "blackmail" the West with nuclear weapons.
The call up of reservists in Russia follows this week's announcement by the Donetsk and Lugansk People's Republics, and the predominantly Russian-held regions of Zaporozhye and Kherson, that they will hold referendums on joining Russia between September 23 and 27.