EDITOR'S NOTE: When we turn the page from this unhinged time in American history, we will have a very hard time explaining, as historians usually do, how on Earth could the Democrat Leftist wing manage to unite all social groups, all their constituencies, and all the "identities" they so worship against them… After the Latinos and the Black males, who are making a dramatic turn to conservatism, they have now managed to unite the Christian Right with the Muslims (!!) in the fight against sexualizing children in the educational system!!  Meanwhile, the Biden administration and the globalists who actually run it have managed to unite the whole of humanity against the West…
Enjoy the encouraging news from the formerly Democrat stronghold of Dearborn, Michigan…
=======================
Muslim Parents Defy Intersectionality, Join Christian Parents Against Sexualizing Kids | Opinion
Over the past year or so, we've become familiar with scenes of parents protesting school boards over sexually explicit content in schools. But Monday's event featured a new cast: Hundreds of predominantly Arab and Muslim Americans joined their Christian neighbors to oppose the sexually explicit, pro-LGBTQ materials popping up in their kids' public school education.
Dearborn is next to Detroit, home to the largest Muslim population in the United States per capita, as well as the largest mosque in the country. Over 300,000 Muslims live in Southeast Michigan—which makes the protest all the more interesting: These aren't Republicans. Dearborn is in Wayne County, which hasn't voted for a Republican president in 94 years—since Herbert Hoover was elected in 1928.
The school board protest was led in large part by Imam Sayed Hassan Al-Qazwini of the Islamic Institute of America in Dearborn Heights. In his Friday sermon last week, he specifically urged his congregants to attend the protest. "Some of those books are completely inappropriate for our children to read," the Imam said. "Some of those books promote pornography. Some of them promote homosexuality. We don't need this. Go and attend this meeting."
Like much of his community, Qazwini is no right-wing ideologue or even a fan of former President Donald Trump, who ran on instituting a Muslim ban. In a 2020 interview, Qazwini told France 24 that Trump has "marginalized Muslims" and "supported white supremacy." "I am not proud to be American under the presidency of a man like Donald Trump," the Imam said.
Qazwini, like Monday's protest, scrambled the intersectional mindset that rules the woke Left, in which minorities like Arab and Muslim Americans are due special deference due to the marginalization they suffer at the hands of a white supremacist state.
But what happens when a minority community—one that is solidly Democratic—feels aggrieved by another identity group of the intersectional Left? That's what we're seeing play out in Dearborn.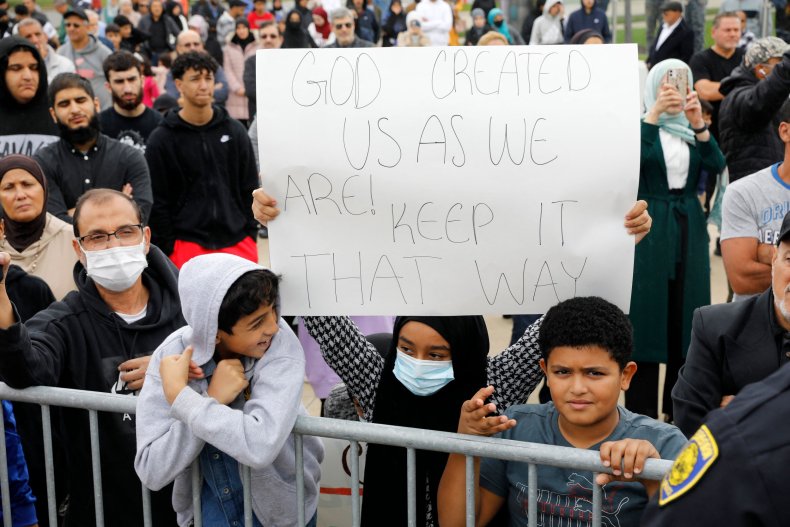 It's an especially salient question given that peaceful parent protests over these same issues in 2021 were met with the full weight of the U.S. government, which instituted policies treating parents who objected at school board meetings as domestic terrorists. Many on the Right felt for the first time what Muslim Americans have lived with since the September 11 attacks: the innate suspicion of the U.S. government due to your religion.
In 2021, when parents around the country began staging protests at school board meetings, the Department of Justice stepped in at the urging of the National School Boards Association (NSBA) by issuing a memo expressing plans to investigate the "increase in harassment, intimidation and threats of violence against school board members, teachers and workers in our nation's public schools." The Justice Department faced backlash over many reports of federal agent presence at school board meetings.
The National School Boards Association issued a letter to President Biden (which has since been removed from their website) that labeled parents protesting at school board meetings domestic terrorists and requested federal law enforcement intervention. The Association later retracted and apologized for the letter.
The parent protest in Dearborn raises many interesting questions in a time of pervasive identity politics. How will the DOJ and FBI handle these latest protests now that Muslim and Arab parents are rallying together against allowing sexually explicit materials in schools? Will they be labeled "terrorists" too? Will they be smeared by the corporate media as "right-wing bigots" and "white supremacists"? If so, how will the parents react?
Only time will tell how the Biden Administration and media plan to deal with the fact that Muslim and Arab American parents also do not want their children exposed to sexual content in schools and libraries—and are unwilling to sit idly by. Though the meeting on Monday was peaceful, it featured a heavy police presence and was suspended prematurely by the fire marshal, and the school board recessed until Thursday night, with plans to convene at a larger venue.
It is my hope that this development might actually help us all better drain the dangerous waters of identity politics by focusing on what we have in common, just like these Dearborn parents are. Despite our differences, most American parents care about their kids, want to be involved in their education, and don't want children to be sexualized.
Siraj Hashmi is the co-host of the Habibi Power Hour podcast on Rumble.