What else can be the reason except for money?… Is the investiture of four Archons the main reason for the visit? Or the influx of Ukrainian oligarchs in Cap Ferrat has something to do with it? 
By Nick Stamatakis
The official announcement spoke about "His All Holiness to visit Monaco this Saturday, January 21st to Monday the 23rd" for the investiture of four new Archons, meetings with Prince Albert and the local Catholic Archbishop"… But the sudden death of Pat. Bartholomew's sister in Athens changed the plans slightly.  Instead of Bartholomew, Emmanuel, the "party animal", will accompany Karloutsos to the "Kingdom" by the Mediterranean…
Karloutsos, along with the Archons, had been in Greece to meet Mirtsotakis and Ambassador Tsunis and arrange a "Religious Freedom Conference" in Athens in 2024.  Of course, we all understand what this focus on "religion" means: It is yet another way for a State Department expedition into world politics.  It has been their standard policy to use "Religion" as a political tool, and that's what they were planning to do once again.
It is characteristic that Pat. Bartholomew was recently planning a "ministry visit" to China, supposedly to "serve" the Orthodox in this vast country and especially the Orthodox community in Hong Kong.  But the Chinese government, having learned the lesson from what happened in Ukraine, did not allow Bartholomew to visit!!  At the same time, it became known that the Chinese allowed the Russian Patriarchate to organize some events – even though the permit was not an easy process: The Chinese consider religious "missions" especially dangerous for their national security, as they see them as tools of foreign governments to instigate unrest and possibly revolt.
So Karloutsos and Emmanuel will visit Monaco for the "investiture of four new Archons", meetings, etc. Is this the whole story? I am afraid it is not… There is big money in the investiture of new Archons, but… Those of us who try to see behind the front pages of the news have long been aware that last summer, the isolated, exclusive" little island of Cap Ferrat, in Monaco, was flooded by Ukrainian oligarchs, awash in cash from the billions of American "aid to Ukraine", who have replaced the Russian oligarchs living there (link here – please watch the video in this link  – you can read the post below).  Why the rush? Many wanted to avoid being drafted (hence their nickname "The Monaco Battalion"), and others just had a good time as they were investing their new wealth… The Russian oligarchs escaped with their yachts to Turkey and other countries that would allow them asylum and protection from the western sanctions…
But with so many Ukrainian oligarchs there, given Karloutsos's involvement in Ukraine in cooperation with the Bidens, the connection is clear. Just a few days ago, the Daily Mail (link here) had a huge piece on the Bidens and their dirty influence peddling worldwide. The second half of this piece is almost exclusively about the Biden – Karloutsos relationship!!  Recently, American mainstream media, for the first time in the last 6-7 years, are reporting daily on Hunter Biden's (and his dad's) Ukraine connection, along with all the other aspects of the sick Biden family's story… When in Monaco, with so many Ukrainian oligarchs there, and the central marina full of their superyachts, will Karloutsos miss the opportunity to ask for some extra donations?  
Especially when Met. Emmanuel is next to him?  Should I remind you that Emmanuel was (and is) the "Foreign Minister" of the Phanar Patriarchate and was traveling monthly to Kyiv for "meetings"?  After many of these monthly meetings, he was seen heading to Switzerland with a suitcase full of cash to be deposited into the bank account under his and Bartholomew's name… Yes, my dear "archons", this is your "transparent" leadership… Keep giving money to the "Band of Thieves" calling themselves the "Ecumenical" Patriarchate…
The Karloutsos Family legal troubles will come to a peak soon: Mike's legal case is going from bad to worse and Jerry Dimitriou's "plea bargain" will reveal its full effect on "Papa-Karloutsos" himself by the end of March or April… In both cases the money requirements are huge, hence the trip to Monaco seems like a great opportunity – maybe the last one of this magnitude…
Finally, did anyone notice that Karloutsos is wearing the presidential medal of freedom lapel pin always?
He does not miss the opportunity not simply to wear it but to let everyone know how important an award it is… Yes, my friends, this little lapel pin, Karloutsos thinks, will be his – and his son's – ticket to the presidential pardon…
BELOW, is a video of Karloutsos in a wild party celebration… Like the ones he will be having in Monaco…
January 19, 2023, n.stamatakis@aol.com   www.helleniscope.com
DISCLAIMER: The views and statements expressed in this article constitute constitutionally protected opinions of this author.
=============================
UKRAINIAN 'BUSINESSMEN' TAKE OVER FROM RUSSIAN OLIGARCHS IN MONACO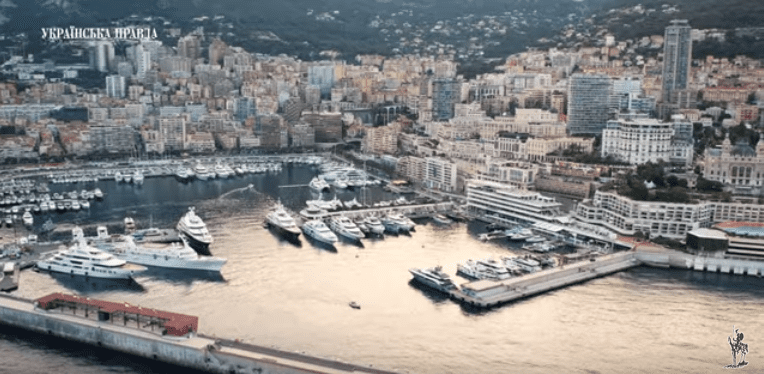 Reporters from Ukraine's Pravda have been in Monaco and Cap Ferrat to investigate the Ukrainian expats who seem to be living either in the Principality or close by. Many of them are hiding from justice while others are avoiding service in the Ukrainian army. Some are Russian sympathisers while others are just visitors.
Their resulting video report can be seen here. It went live on August 16 with the title The Monaco Battalion.
We are very grateful to a Ukrainian friend who has translated the main points into English. It makes for very interesting reading and blows the lid off the idea that the luxurious cars with Ukrainian license plates are being driven by Russians.
The video starts with no commentary…
There are many cars with UA number plates in Monaco (3 minutes and 10 seconds into the video). You see one every five minutes.
It's not only cars. The yacht called Z, owned by Kostyantyn Zhyvajo arrived in Monaco from Palma de Mallorca and previously Ibiza, according to MarineTraffic. The yacht, whose name has nothing to do with the Russian war symbol, anchored off Monaco and did not enter the port. She is 65 metres and valued at $70 million (4.41).
Zhyvajo is the fourth-richest man in Ukraine and also since September 2019 a wanted man in his homeland, suspected of stealing a considerable amount from the bank Finance & Credit. An international arrest warrant was issued one year ago (5.34).
Until this investigation by Ukrainska Pravda his whereabouts were unknown.
At 6.18 we see Zhyvajo putting on his shoes and leaving on a tender with his wife to visit Monaco. Within days the yacht moved to Saint-Tropez and later Sardinia.
Ukrainska Pravda also reports that Grygori Surkis, his brother Igor, and his family have rented an apartment on the second floor of the Monte-Carlo Bay over a period of years (7.40). The reporters say that the annual rent is two million euros. When the family fled Ukraine at the start of the Russian invasion they declared $17 million in cash when crossing into Hungary (8.00).
The Instagram account of Svetlana Surkis, daughter of Grygori Surkis, shows she visited Monaco over many years (9.00).
The two brothers are reported to be fond of visiting the Casino (9.30).
Recently a reader of Pravda noticed and filmed Igor (in black shorts and T-shirt) in front of the Casino (9.51).
Also noted was a Bentley Flying Spur with a Dnipro city registration plate. It belongs to Vadym Yermolaiev (10.35), a developer in the city and Ukraine's 45th richest person.
Not far from the Casino the reporters spotted a car with a UA registration number from Kharkiv – Ukraine's second-largest city which remains under daily Russian artillery attack. This is the latest Mercedes Maybach model (2022) on its way to Buddha Bar. This car costs from $300,000. They bought it in Kharkiv in June, the fourth month of the full-scale war between Russia and Ukraine. It is registered in a company name, the company based in a suburb of Kharkiv (10.40).
The investigative video then moves on to trail a Mercedes to Cap Ferrat (11.56). The reporters discover that there is a major colonisation of the peninsular by Ukrainian expats.
11.56: This Mercedes drove towards Nice from MC & turned toward St Jean Cap Ferrat.
12.24: Nice (but it's not!)
12.45: It arrives at a villa. According to info of Pravda it belongs to the Deputy (=MP) of the 'forbidden' opposition party, a developer in Kyiv, Vadym Stolar.
13.09: During the war the Deputy Stolar for 6 months did not attend any meetings in parliament. He left Ukraine several days before full-scale war started.
13.24: Car registered in name of Vadym Stolar (white Merc). The previous Merc was registered in name of the father of Stolar.
13.50: St Jean Cap Ferrat. Fashionable. King Leopold etc built there. Bloomberg say one of most expensive villas in world.
14.36: In 2019 Rinat Akhemetov, richest man in Ukraine, bought it. Euro 200 million. 13 beds. 30-horse stables.
15.00: 14,000 plants in gardens, 25 greenhouses. Situated across road from house of Stolar.
15.35: From our observations, Ukrainian politicians & businessmen have transferred St Jean Cap Ferrat into a French 'Koncha Zaspa' – an elite suburb of Kyiv. (search google).
16.08: Dragonfly (villa name). Over several days we identified around ten villas to which cars with Ukrainian number plates arrived.
16.32: the central street of Cap Ferrat, Blvd General de Gaulle.
16.56: We notice 2 people walking after running. One is another forbidden Deputy, Igor Abramovich. He left several days before the full-scale war and has not returned to Ukraine.
17.17: The second is (with phone/green shorts) is former acting head of the department of economics and national police and former first deputy of the chief of this department, Sergei Yazmeeken (check).
17.42: In Kyiv several bodyguards look after Abramovich. (footage in Kyiv). Here they walk around without bodyguards.
17.59: Noticed 2 Mercedes Viano, over a few days, coming and going into property No14. Both cars registered on Olena Abramovich name, according to her year of birth she might be mother of Abramovich. Second car used for housekeeping deliveries to Abramovich.
18.51: Landcruisers with 20 & 28 registrations, also belonging to Olena Abramovich. According to French land registry the property belongs to the company of a Russian banker, Boris Davletyarov.
19.15: So the MP is apparently renting the villa from a Russian banker. In May in the Ukrainian parliament, one group was created for the 'Restoration of Ukraine'. Stolar & Abramovich joined it. It seems they want to restore Ukraine from Nice. The friend walking, Yazmeeken, also seems to live in St Jean Cap Ferrat. Car is registered in company of the wife of Yazmeeken, often seen in St Jean Cap Ferrat.
20.15: This info is confirmed in Ukrainian business and political circles.
20.30: New Aston Martin (UA reg) on Blvd Gen de Gaulle. 20.54: car arrives daily to this address.
21.04: lots of UA cars. Sources of Pravda inform this house is connected to the company Euro Inergo Trade.
21.30: Web site says this is a leading company supplying gas & oil.  You can also see UA cars registered in Euro Inergo Trade too.
21.56: Next building is situated more than 100 metres along same street.
22.28: Same street, House belonging to Viktor Pinchuk, one of the richest men in Ukraine
22.52: The owner of car, people working in building?
23.32: During past 2 months the private jet of Pinchuk travelled between Nice, Poland & Uk.
23.49: A few mins by car, we are next to the building of Ukrainian oligarch Dmytro Firtash.
24.14: Not far from Firtash villa we see UA car from Poltava city.
24.38: The man, of service age in army, is busy delivering shopping.
24.50: Last year in October we have seen this car during birthday celebrations for Pavlo Fuks, not far from Kyiv.
25.00: According to info this car has connections to the regional MP from Kharkiv, Volodimir Skorobogach.
25.19: in the courtyard we saw three cars, Mercedes, belonging to daughter Maria Skorobogach.
25.56: Porsche Cayenne driven by younger brother, Yuri Homutynik of rich ex-MP named Vitali Homutynik.
26.30: You can also see on Cap Ferrat villa of Leader of the 'forbidden' party, named Opposition Platform for Life, Serhiy Lyovochkin.
26.46: Villa has better cctv than others. according to info, in political circles, he lives here from time to time, also in Vienna. He just flew to celebrate his 50th birthday in Greece.
27.30: Filmed cars over several days. You can only imagine Ukrainian diaspora living here.
Later, (28.00) the investigators move on to Antibes where they saw the 60-metre yacht Kaiser, valued at $50 million, owned by Oleksandr Yaroslavski.
29.15: On 3rd March he promised to sell the yacht & use the money to restore Kharkiv. It shows for sale on web site. Still not sold.
Pravda spent days in Antibes to watch who came to the yacht. With a drone. One woman looks like wife of Yaroslavski, Marina.
31.30: On instagram lots of pics & hearts with Ukraine to show thinking of Ukraine. Now yacht is off an island in Greece.
32.00: Airport of Nice, talking from car. Looking at life in Riviera contrasting with life. More UA cars than Swiss. During time when Ukraine requires money. Ukrainians earning big money before war now live on the Riviera and don't need Ukraine any more
34.43: Nice airport unique. Refugees travelling worldwide. Here (at airport) we saw ex judge (red shirt) who is wanted. Former head of the commercial court during time of Yanukovitch presidency. Viktor Tatckov.
34.20: he arrived from Vienna to Nice with only a tiny bag. So a short visit.
MPs, judges and businessmen are hiding on the Cote d Azur, well away from the shelling. We have the war because of these same people, the Pravda reporters say, ending their video report.