Mayra Panagiotidou swept the Balkan Championship of Endurance Athletes in Istanbul, winning 1st place in the 200m, 60m and long jump.
Maira Panagiotidou, among others, is also a member of the Pontic Association of Kallithea Sykeon Thessaloniki and so when she climbed to the first place of the podium, along with the Greek flag she also raised the Pontic flag in a gesture of friendship and with the Turkish flag from her fellow athlete next to her .
The statements of Mayra Panagiotidou
"With joy and at the same time a lot of emotion, I would like to share with you moments that I dedicated to my roots, to the homeland of my ancestors. Sport gives me the opportunity to be able to honor our flag in any European stadium I attend for matches. Over the weekend I competed in Istanbul, where the Balkan Championships of Endurance Athletes took place, achieving 1st place in the 200m, 60m and long jump".
The president Antonis Saulidis and the members of the Board of Directors, of the Pontic Cultural Association of Kallithea Sykeon, express their warm congratulations to the member of the Association Mayra Panagiotidou who won the 1st place by raising the Pontic flag together with the Greek flag during its awarding ceremony. We always wish you success.
===================
Σάρωσε στο Βαλκανικό Πρωτάθλημα Διαχρονικών Αθλητών στην Κωνσταντινούπολη η Μάϊρα Παναγιωτίδου, κατακτώντας την 1η θέση στα 200μ, στα 60μ και στο άλμα εις μήκος.
Η Μάϊρα Παναγιωτίδου εκτός των άλλων είναι και μέλος του Ποντιακού Συλλόγου Καλλιθέας Συκεών Θεσσαλονίκης και έτσι όταν ανέβηκε στην πρώτη θέση  του βάθρου, μαζί με την ελληνική σημαία ύψωσε και την σημαία του Πόντου σε μία κίνηση φιλίας και με την τουρκική σημαία από την συναθλήτρια δίπλα της.
Οι δηλώσεις της Μάϊρας Παναγιωτίδου
"Με χαρά και συνάμα πολύ συγκίνηση θα ήθελα να μοιραστώ μαζί σας στιγμές που αφιέρωσα στις ρίζες μου, στην πατρίδα των προγόνων μου. Ο αθλητισμός μου δίνει την ευκαιρία να μπορώ να τιμώ τη σημαία μας σε όποιο γήπεδο της Ευρώπης παρεβρεθώ για αγώνες. Το Σαββατοκύριακο αγωνίστηκα στην Κωνσταντινούπολη, όπου έγινε το Βαλκανικό Πρωτάθλημα Διαχρονικών Αθλητών πετυχαίνοντας 1η θέση στα 200μ, στα 60μ και στο άλμα εις μήκος".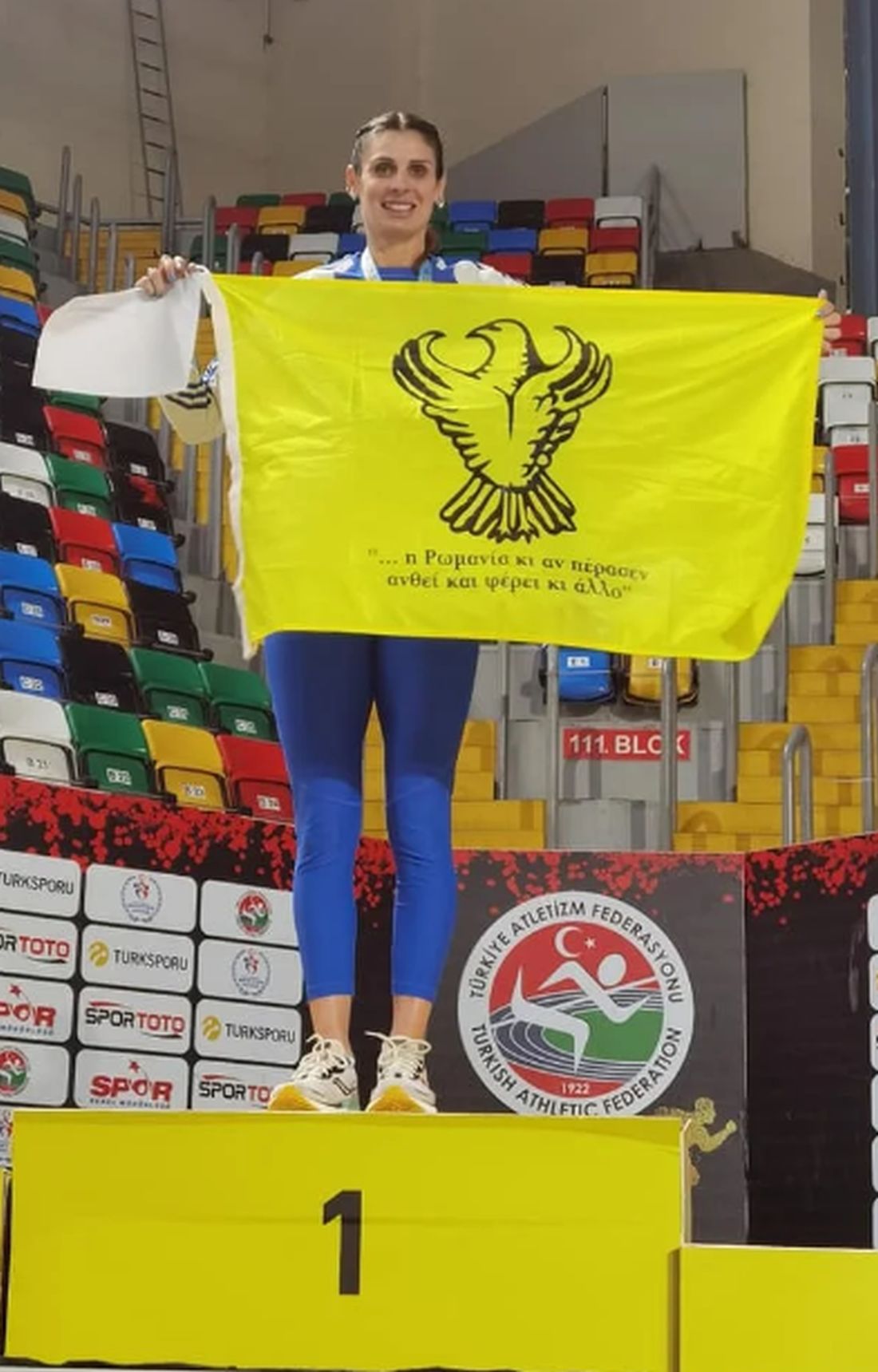 Ο πρόεδρος Αντώνης Σαουλίδης και τα μέλη του Διοικητικού Συμβουλίου, του Ποντιακού Πολιτιστικού Συλλόγου Καλλιθέας Συκεών, εκφράζουν τα θερμά συγχαρητήρια στο μέλος του Συλλόγου Μάϊρα Παναγιωτίδου που κατέκτησε την 1η θέση υψώνοντας την σημαία του Πόντου μαζί με την Ελληνική κατά την απονομή της. Ευχόμαστε πάντα επιτυχίες.