EDITOR'S NOTE: For those of you who are wondering this is what "walling off" looks like. We celebrate Christ and his passions anywhere.  The first Christians did not have the elaborate, ornate Churches we are now used to having.  They celebrated  Christ anywhere, in places such as this makeshift Church where Papa-Lefteris practices the Orthodox Faith now, even in their houses. The last thing Christ would care about is the hypocritical golden gilded decorations in our churches…
================================
Papa Lefteris defrocked but people still turn up to Good Friday service
Father Lefteris – affectionately called Papa Lefteris – is not an eloquent man and he sometimes stops mid-sentence as new thoughts race through his head. Nor is he a strategic thinker and he lets his emotions get the better of him and blurts out statements that may not be politically correct.
But the parishioners present at the Epitaph Procession at Dromana Community Hall in Victoria were there to support him regardless of accusations which lead to him being defrocked by decision of the Ecumenical Patriarchate and as announced by the Greek Orthodox Archdiocese of Australia.
They say his charisma lies in how he makes people feel.
Stavroulas Halaris and her husband come from the Municipality of Whittlesea because they feel a connection with Papa Lefteris and seek his blessing in the hope that they will someday have children.
"He knows the names and stories of everyone here," she told The Greek Herald.
"He has looked out for people who are sick, who have a lot of problems and he is always there for them."
Christina Katzantzidou, who has been coming to Papa Lefteris' church for 22 years, told The Greek Herald that it was a "bit of a shock" when he was defrocked, especially after Rye where thousands showed up for the Blessing of the Waters ceremony at the foreshore. A month later, the Archdiocese printed its annual calendar without Papa Lefteris' church listed.
Now, just three months later, Rye seems like a swan song.
The Epitaph procession was sombre by comparison. There were no candles held by those present for fear of spilling wax on Mornington Peninsula Shire's property, and the Procession was just a dark walk to the garden's tree and back, quiet for fear of disturbing neighbours.
A stark contrast to joyful candlelit processions in other parts of Melbourne, it conjured images of Christians secretly praying in catacombs, careful not to be heard by neighbours. But what was lost in pomp and fanfare was more than made up for in sentiment.
Papa Lefteris was visibly moved.
"I love you because without you and your filotimo, love and belief, I would not be on my feet right now, and I will be here for as long as God has me near you," he said to his parish.
In his sermon, the message of Crucifixion and hopes of Resurrection were directly applied to Papa Lefteris' own feelings of persecution by the very Church he helped to build. When he spoke, the traitors of Jesus were intermingled with the modern-day traitors.
"Judas understood he offered innocent blood and he threw away the thirty pieces of silver and committed suicide, but these days traitors don't have a conscience," he said.
Who is Papa Lefteris?
A priest for 56 years, Papa Lefteris – the son of Father Michalis of Chios – first came to Melbourne when aged 19. He remembers living in the Housing Commission of Flemington, showering in freezing water, while working hard to give all he had to help strengthen the foundations of the Archdiocese in South Melbourne.
Despite his immense contribution over the years, he was 'let go' by an email signed by Archbishop Makarios of Australia and Patriarch Bartholomew drafted on one of the Archbishop's many trips to Istanbul.
"They didn't call me to speak with me," Papa Lefteris told The Greek Herald, pointing to the Bible story of the Good Shepherd who left his 99 sheep to find the one that went astray.
The real problem, according to Papa Lefteris, was not just in the Canons. He told The Greek Herald that a major point of contention had been the Archdiocese's decision to raise prices of Sacraments, which lead Papa Lefteris to openly criticise Archbishop's spending habits.
"Not everyone can afford $1,000 for a funeral and $2,000 for a wedding," Papa Lefteris said, outraged at the price hike.
In his makeshift church everyone can give as much as they have and want. There are no prices.
Then there were Papa Lefteris' alternative views on COVID-19 vaccinations and conservative views regarding same-sex marriage, fiery and harsh. Though he is not the only priest to have expressed such opinions, he uses expletives and impassioned speech.
'He speaks his truth'
The words "truth" and "authenticity" popped up in conversations which The Greek Herald had with those present in his service. Some, like Eugenia Andriakopoulos, met him when he was still a priest at South Melbourne and have followed him from parish to parish.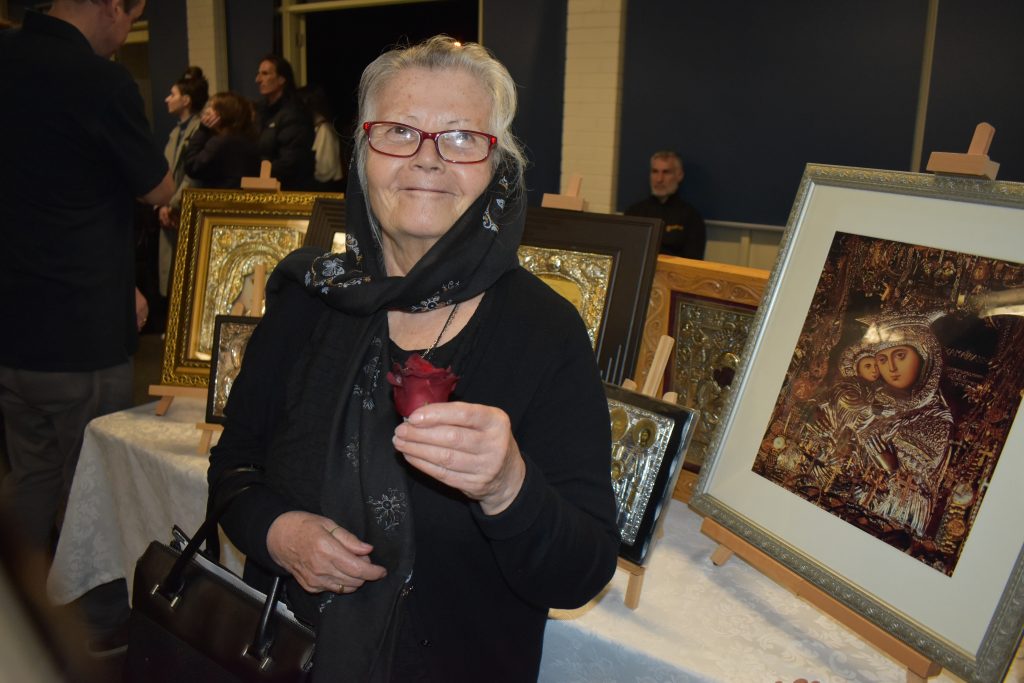 Georgia Savanakis said she had a "dream" where her deceased father told her to come to this church on the Saturday of Souls four years ago. "I haven't stopped since," she said.
"He doesn't judge, he doesn't care if you follow God and follow your heart. We've all become this big family."
George Materis from Thomastown drives more than one hour to help the Church any way he can.
"I come here because of the man he is," he said. "He lost his Church. He's lost his property. He's lost everything because he speaks his truth."
Construction of a new church
Papa Lefteris may have lost the church he helped build, but he hasn't lost all his congregation. People are already coming to him with plans to rebuild, and Papa Lefteris told The Greek Herald he is open to the idea.
"During St Thomas feast day we will have a barbeque with sausages, a feast for the people," he said. "We will eat, enjoy the meal and regain our strength."
Papa Lefteris said that he will go on for as long as God wants him, just as his father, also a priest, had done so before.
"I answer to God, and not the Archbishop," he said.
As the administrator of the Facebook Page "Papa Lefteris – Man of the People", Glikeria Andriotis, said that letters of support have been flowing from people around the world.
"He reads all of them," she said.
There are 20,000 followers of the page, and a total of 163,000 followers of the other Facebook pages affiliated with Papa Lefteris and his church. As services are livestreamed people jump in with positive comments and even more support, whereas the Change.org petition, titled Save Papa Lefteri's Position at Red Hill Church, gathered nearly 6,500 signatures before the defrockment and is filled with messages from people he has helped.
As for the others, whom he has not helped, Papa Lefteris told The Greek Herald: "Sometimes I make mistakes, and for that I apologise."