EDITOR'S NOTE (Nick Stamatakis):  A new day has arrived quickly in international politics in Europe and the Middle East – we can hardly keep up with the news and the speedy developments.  Russia (and, to a lesser degree, China) are moving fast to take charge of international affairs as the US State Department is mired in its delusionary "woke" politics. In just a matter of a few months, Russia's masterful diplomacy – assisted by China – managed to: a) achieve peace between Iran and Saudi Arabia, b) Re-enter Syria into the Arab League, c) Achieve a peace plan between Armenia and Azerbaijan,  d) are about to make a deal between Syria and Turkey, e) re-attract Georgia into their sphere of influence… I could go on… All the above and much more happened simultaneously as they were achieving their goals in Ukraine… And now they throw the ball in NATO's field and challenge the unreasonable actions of the Albanians in Kosovo… The actions of these Albanians were so extreme that even the State Department felt the need to distance itself…
BELOW ENJOY AN EXPERT ANALYSIS BY THE TWO ALEXES, CHRISTOPHOROU AND MERCURIS FOLLOWED BY THE NEWS…
==================
China fuels anti-NATO sentiment alongside Russia in support of ethnic Serbs fighting in Kosovo
NATO readies more peacekeeping troops as clashes continued in Kosovo
China on Tuesday threw its weight alongside Russia behind ethnic Serbs clashing in Kosovo after fighting broke out in protest to regional elections and dozens of NATO peace keeping forces were injured.
Beijing, in sidestep with its top ally Moscow, has never acknowledged Kosovo's 2008 independence from Serbia and in a Tuesday press briefing said it supports Serbian efforts to "safeguard its sovereignty and territorial integrity."
Ethnic Serbs only account for roughly 5% of Kosovo's population, though roughly half of all ethnic Serbs live in northern Kosovo, where clashes between the minority population and NATO and Kosovo police forces erupted following elections last month.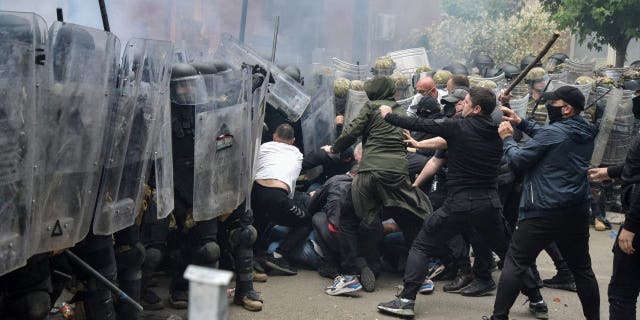 KOSOVO POLICE, NATO PEACEKEEPERS CLASH WITH SERB PROTESTERS AS TENSIONS IN THE REGION ESCALATE
Ethnic Albanians, which make up 90% of Kosovo's population, were able to secure mayoral election wins in the north after Kosovo Serbs boycotted local elections.
Ethnic Serbs then tried to take over government offices in one of the municipalities in northern Kosovo after ethnic Albanian mayors assumed their roles last week – prompting NATO and Kosovo police forces to step in.
At least 30 international peacekeeping forces have been injured, including 11 Italian and 19 Hungarian soldiers, according to a NATO statement Tuesday. Additional forces have been called up in a "prudent measure" to maintain regional security in accordance with the U.N. Security Council mandates.
However, tension had been brewing in northern Kosovo for months in the lead up to the elections and ethnic Serbs have been calling for the establishment of an association for majority-Serb municipalities and greater autonomy – a move that government officials in Kosovo's capital Pristina have flatly rejected as it would essentially recreate a Serbian state within Kosovo.
Serbia, which sits directly north of Kosovo, raised the combat readiness of its troops positioned at the border and said it would not tolerate violence against ethnic Serbs.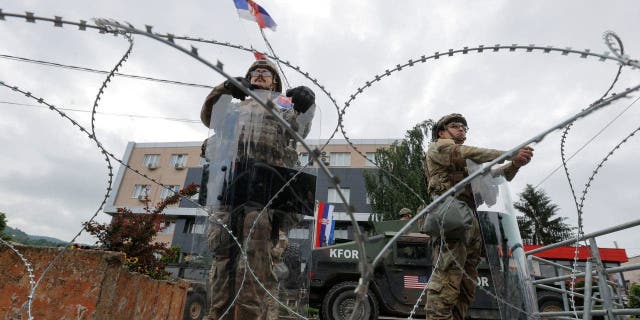 CLASHES ERUPT AS ETHNIC SERBS BLOCK MUNICIPAL BUILDINGS IN NORTHERN KOSOVO, SERBIAN TROOPS MOBILIZED
Both the U.S. and EU have called on both sides to calm the tensions and prevent further escalation.
However, China appeared to add fuel to the flames Tuesday, when it said it opposed unilateral steps taken by the "temporary institutions" in Pristina and called for the establishment of "an association/community of Serb majority municipalities."
"We urge NATO to respect relevant country's sovereignty and territorial integrity and truly contribute to peace in the region," foreign ministry spokeswoman Mao Ning told reporters.
Brutal fighting raged in Kosovo throughout the 1990s following the breakup of Yugoslavia in 1992 – killing tens of thousands and displacing millions – and NATO nations remain concerned that recent turmoil in the region could spark another major European conflict as Russia's war in Ukraine continues.
Russia and China have long claimed that NATO over-stepped during the conflict, particularly after Beijing's embassy in the Serbian capital of Belgrade was hit during an air campaign in 1999 as NATO forces looked to end Serbia's brutal assault on ethnic Albanians in Kosovo.
The U.S. has apologized for the incident that killed three Chinese journalists and faulted shaky intelligence, though Beijing has since used the incident to fire up anti-NATO sentiment, reported ABC News.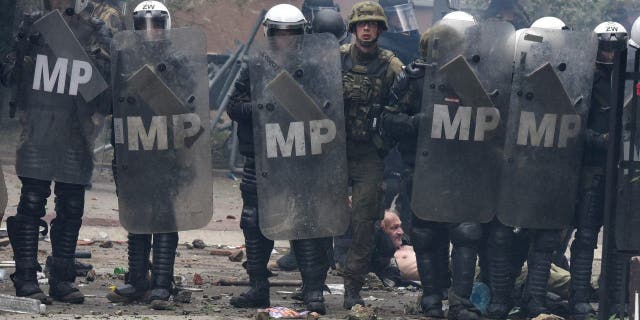 Russian Foreign Minister Sergei Lavrov also used the recent clashes as an opportunity to lash out at NATO efforts to stem the aggression.
"A major explosive situation is brewing in the heart of Europe, exactly in that place where NATO carried out aggression against Yugoslavia in 1999," he said according to Russian state-owned media outlet Tass. "The situation is alarming, but the West has embarked on a course of total subjugation of all those who in any way express their own opinion."
Rebekah Koffler, a Russia expert and former Defense Intelligence Agency intel officer specializing in Russian doctrine, warned that Lavrov's comments were likely more than opportune diplomatic rhetoric, but part of a larger Kremlin scheme.
"Lavrov's comments…are consistent with Russia's long-term position on the break-up of Yugoslavia, which Moscow attributes to the U.S. and NATO's 'aggression'," she told Fox News Digital. "Given that it has been Putin's goal for more than a decade to reverse Kosovo's split from Serbia, it is quite probable that Russian and Serbian intelligence is behind the current violent clashes between the local Serbs and NATO-lead peacekeepers."
"The 'big explosion in the center of Europe' that Lavrov is talking about is probably part of Putin's lateral escalation strategy, a typical Moscow statecraft, to divert the U.S. and NATO's attention away from Russia's war on Ukraine and tie up Western intelligence resources on a new security issue threatening Europe," she added.