EDITOR'S NOTE (Nick Stamatakis): Please take a look at these photos from Ivanka's and Jared's vacation in Greece and also pay special attention at Ivanka's post on Instagram (below).  We are used to hearing good words about Greece but this is something special!! It already had 135,000 likes this morning!!
During the pandemic I reread "The Odyssey" and fell in love Homer's epic poem once again ✨✨ (I loved Robert Fitzgerald's translation)

Walking in the footsteps of Odysseus these past few days has been an extraordinary experience ~ ancient ruins and mythical landscapes came alive before my eyes as I explored this breathtaking country.

Thank you, Greece, for bringing the Odyssey to life in the most enchanting way possible. Here's to new adventures and embracing the spirit of Odysseus within us all! 🌊🌊🌊

Ευχαριστώ πολύ 🇬🇷🇬🇷🇬🇷
=================
Η Ακρόπολη μάγεψε την Ιβάνκα!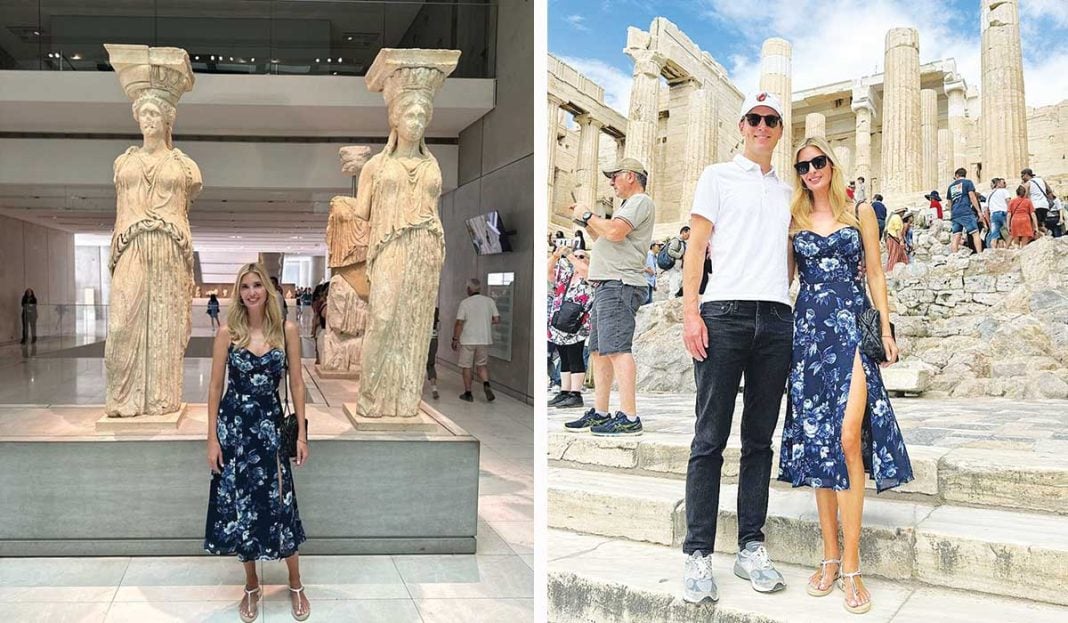 Η κόρη του Τραμπ και ο σύζυγός της Τζάρεντ Κούσνερ επισκέφτηκαν τον Ιερό Βράχο και τους «κόπηκε η ανάσα»
Εντυπωσιασμένη από τους αρχαιολογικούς χώρους της χώρας μας δηλώνει η Ιβάνκα Τραμπ, η οποία βρίσκεται επί ελληνικού εδάφους τις τελευταίες ημέρες μαζί με τον σύζυγό της Τζάρεντ Κούσνερ. Η κόρη του πρώην προέδρου των ΗΠΑ Ντόναλντ Τραμπ επισκέφτηκε αρχικά τον Ιερό Βράχο της Ακρόπολης προτού ταξιδέψει στην Υδρα, για να βρεθεί τελικά χθες και στους Δελφούς. «"Γνώρισε τον εαυτό σου".
Αυτά ήταν τα λόγια που ήταν χαραγμένα πάνω από την είσοδο του ναού του Απόλλωνα στους Δελφούς. Προτού θέσουν οποιαδήποτε ερώτηση στους θεούς, το Μαντείο των Δελφών απαιτούσε από τους ταξιδιώτες να ερευνήσουν τον εαυτό τους – ενθαρρύνοντας τον αυτοαναλογισμό και την αυτογνωσία» γράφει η 41χρονη Ιβάνκα σε φωτογραφική ανάρτηση που έκανε στο Instagram.
«Η επιγραφή, μια βασική αρχή για την προσωπική ανάπτυξη και σοφία, χρησίμευε ως υπενθύμιση σε όσους αναζητούσαν καθοδήγηση από το Μαντείο ότι η αληθινή σοφία ξεκινά με την κατανόηση του εαυτού τους» συμπληρώνει στο post που έκανε από τους Δελφούς στον επίσημο λογαριασμό της, τον οποίο ακολουθούν 7.500.000 άνθρωποι. «Η Ακρόπολη είναι μια απόδειξη των απίστευτων επιτευγμάτων του αρχαίου ελληνικού πολιτισμού και της κληρονομιάς του. Είναι ένα μέρος όπου η Ιστορία ζωντανεύει, μεταφέροντάς σε πίσω στον χρόνο σε μια εποχή μύθων, φιλοσοφίας και πολιτιστικής λαμπρότητας» είχε γράψει λίγες ώρες νωρίτερα σε άλλη ανάρτηση αναφορικά με την «εξερεύνηση» της ίδιας και του άντρα της στον Ιερό Βράχο.
Στο ίδιο post υπογράμμισε ότι «η πανοραμική θέα της Αθήνας από την Ακρόπολη έκοβε την ανάσα, προσφέροντας ένα μαγευτικό μείγμα αρχαίου και σύγχρονου αστικού τοπίου. Είναι ένα θέαμα που θα μείνει για πάντα χαραγμένο στη μνήμη μου».