ΕΛΛΗΝΙΚΟ ΚΕΙΜΕΝΟ ΑΚΟΛΟΥΘΕΙ
EDITOR'S NOTE (Nick Stamatakis): It is truly unbelievable that we even have to discuss this atrocious idea that the US "Neocons", the same group of people that have already lost another war (Ukraine) and their policies have caused irreversible damage to America, are now trying to offer anything they can to Turkey (this time replacing Cyprus with coordinates!!!), in order to please Sultan Erdogan and keep him in the Western camp… The Mitsotakis government should NOT have allowed such a proposal to approach the table… But as I have said many times, the Mitsotakis family are known traitors since the times of the German occupation, they see Greece as their property and are ready to sell anything to their patrons…
But the Greek-American community will surely react, and our voice will be heard all the way to the State Department and the White House.  Right, Mr.Manatos, Mr. Larigakis, Mr. Zemenides? Or maybe we should protest outside the Greek Embassy in DC?
==================
Unthinkable: NATO erases Cyprus from the map for the sake of Turkey!
The Mitsotakis government must react here and now!
The news that NATO is preparing to erase Cyprus from the map and replace it with… coordinates obeying the orders and demands of Tayyip Erdogan only causes anger!
The shocking revelation was made today by the newspaper "Kathimerini", which publishes the news on its front page.
See the front page: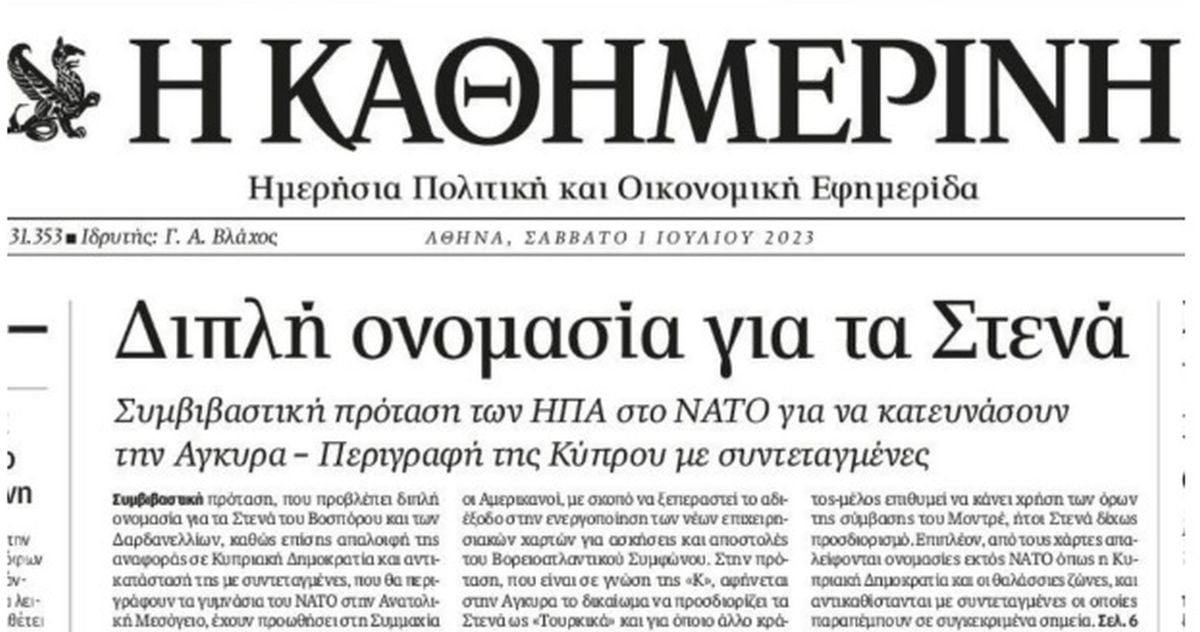 According to what the newspaper reports, the proposal to make Cyprus…invisible came from the US which wanted to find a compromise solution in order to appease Ankara to participate in the exercises, after the Sultan had vetoed Cyprus not being mentioned as the Republic of Cyprus!
According to the proposal, the straits of the Bosphorus and the Dardanelles will have not one but two names, while Cyprus will not be mentioned at all and will be described with coordinates in NATO gymnasiums in the eastern Mediterranean.
Already this unacceptable proposal, which has a huge impact on our country, has been promoted by the Americans in order to overcome the impasse in the activation of the new operational maps for exercises and missions of the North Atlantic Treaty.
This unimaginable development diminishes our country to a great extent as names such as the Republic of Cyprus and maritime zones are removed from the maps and replaced with coordinates!
The issue is that Greece should react immediately and strongly!
The Mitsotakis government should not let this proposal pass and must veto it now at all levels, in order to respect international legitimacy and not to open the back door which will gradually lead to the annihilation of Cyprus!
Now is the time for Greece to show its strength and "hit" Turkey to secure the future of the nation.
There is no excuse for such compromises, they constitute utter betrayal.
================
Αδιανόητο: Το ΝΑΤΟ διαγράφει από τον χάρτη την Κύπρο για χάρη της Τουρκίας!
Η κυβέρνηση Μητσοτάκη πρέπει να αντιδράσει εδώ και τώρα!
Μονάχα οργή προκαλεί η είδηση πως το ΝΑΤΟ ετοιμάζεται να διαγράψει την Κύπρο από τον χάρτη και να την αντικαταστήσει με… συντεταγμένες υπακούοντας στις διαταγές και τις απαιτήσεις του Ταγίπ Ερντογάν!
Την σοκαριστική αποκάλυψη έκανε σήμερα η εφημερίδα «Καθημερινή» η οποία δημοσιεύει την είδηση στο πρωτοσέλιδό της.
Δείτε το πρωτοσέλιδο: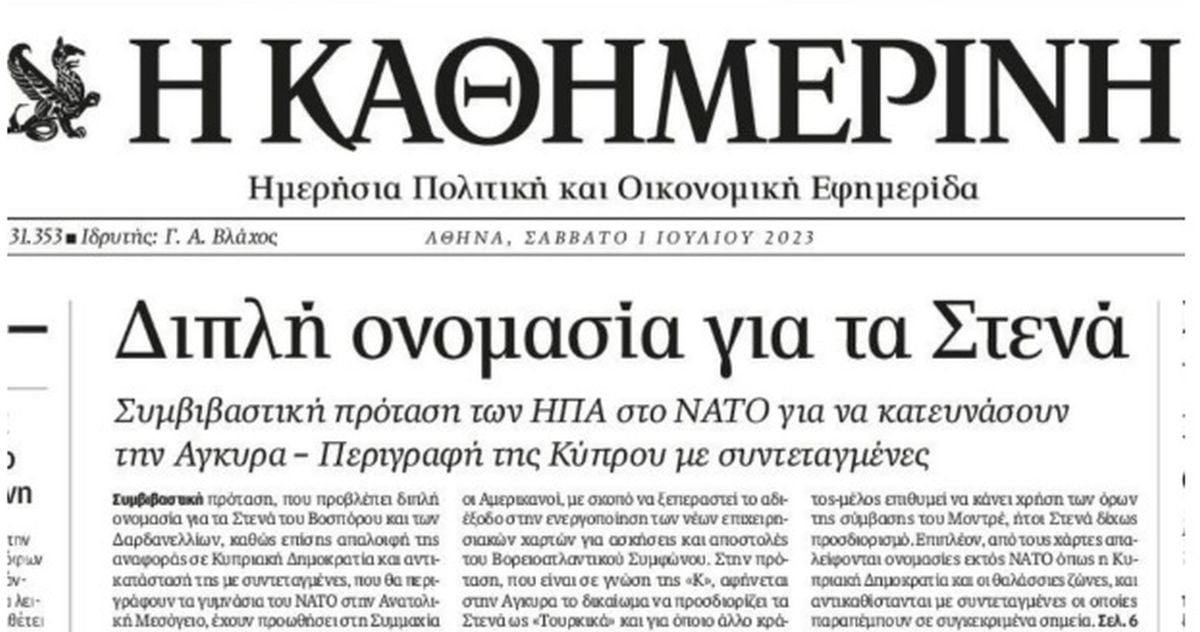 Σύμφωνα με όσα αναφέρει η εφημερίδα, η πρόταση να γίνει η Κύπρος… αόρατη ήρθε από τις ΗΠΑ οι οποίες θέλησαν να βρουν μια συμβιβαστική λύση προκειμένου να κατευνάσουν την Άγκυρα για να συμμετέχει στις ασκήσεις, αφού ο Σουλτάνος είχε θέσει βέτο, να μην αναφέρεται η Κύπρος ως κυπριακή Δημοκρατία!
Σύμφωνα με την πρόταση τα στενά του Βοσπόρου και των Δαρδανελλίων θα έχουν όχι μία αλλά δύο ονομασίες ενώ η Κύπρος δεν θα αναφέρεται καθόλου και θα περιγράφεται με συντεταγμένες  στα γυμνάσια του ΝΑΤΟ στην ανατολική Μεσόγειο.
Ήδη η εν λόγω απαράδεκτη πρόταση που έχει τεράστιο αντίκτυπο και στην χώρα μας έχει προωθηθεί από τους Αμερικανούς με σκοπό να ξεπεραστεί το αδιέξοδο στην ενεργοποίηση των νέων επιχειρησιακών χαρτών για ασκήσεις και αποστολές του Βορειοατλαντικού συμφώνου.
Η αδιανόητη εξέλιξη αυτή μειώνει την χώρα μας σε μεγάλο βαθμό καθώς από τους χάρτες απαλείφονται ονομασίες όπως η Κυπριακή Δημοκρατία και οι θαλάσσιες ζώνες και αντικαθίστανται με συντεταγμένες!
Το ζήτημα είναι πως η Ελλάδα θα πρέπει να αντιδράσει και μάλιστα άμεσα και σθεναρά!
Η κυβέρνηση Μητσοτάκη δεν θα πρέπει να αφήσει αυτή την πρόταση να περάσει και οφείλει να θέσει βέτο τώρα σε όλα τα επίπεδα, προκειμένου να τηρηθεί η διεθνής νομιμότητα και να μην ανοίξει η κερκόπορτα η οποία θα οδηγήσει σταδιακά στον αφανισμό της Κύπρου!
Τώρα είναι η ώρα να δείξει η Ελλάδα την δύναμη της και να «χτυπήσει» την Τουρκία για να εξασφαλίσει το μέλλον του έθνους.
Δεν υπάρχει καμία δικαιολογία για ολιγωρίες και συμβιβασμούς, το συνιστούν εσχάτη προδοσία.
======================