EDITOR'S NOTE: As Zerohedge.com, one of the most popular and trustworthy websites,  reveals today, Zelensky's Courts will send to jail one more priest of the Ukrainian Orthodox Church… Let me reiterate here what awaits those fascist minions – and those who support them in Constantinople… I do not need to explain to them that if Russia advances militarily to Odessa, Kiev, and the West, they will pay a heavy and deserved price in Courts and possibly out of courts.  But even if we assume that peace is reached in some type and form, what do you think will be article number one of the peace agreement? You guessed it: it will be the restoration of ALL the rights of the suppressed Orthodox and the protection of the Russian language…
No matter how the war ends, they will be punished severely…
===================
Ukrainian Church Leader Given 5 Years In Prison For Being Seen As Sympathetic To Russia
In yet another example highlighting the Zelensky's government's stance on "religious freedom" and democratic rights, a senior clergyman of the Ukrainian Orthodox Church has been sentenced to five years in prison after he was accused of 'justifying' Russian aggression against Ukraine. Regional media has identified the bishop as Metropolitan Jonathan of Tulchin.
The dominant Orthodox church in Ukraine to which he belongs—which has frequently criticized the Russian invasion but has not broken communion with the Moscow Patriarchate (The Russian Orthodox Church)—has of late come under severe persecution by the state, with its clergy and monastics seen as "sympathetic" to Moscow.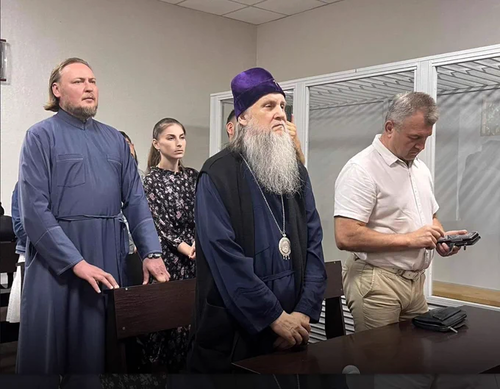 Regional media says that Metropolitan Jonathan will see property confiscated which was under his oversight. Ukraine authorities have already seized several churches and monasteries on accusations of cooperating with Russia.
Other clergy members have also seen jail time or have been placed under house arrest, or else harassment by mobs of far-right Ukrainian nationalists, most often for merely calling for peace between the two countries.
According to a regional Orthodox church source:
Meanwhile, His Eminence Metropolitan Pavel of Vyshgorod, the abbot of the Kiev Caves Lavra, was finally released from custody on bail today.

Met. Jonathan, however, will be held under nighttime house arrest until the verdict enters into force. His Eminence has repeatedly denied all charges against him and will file an appeal "against the clearly illegal verdict of the Vinnitsa City Court."