POSTER ABOVE: A poster used by the Norwegians in their camping against Tsunis, adjusted appropriately to fit our occasion…
By Nick Stamatakis
I am hoping you enjoyed the hilarious video above…
We cannot catch a break in the Greek-American community… Almost every week we have to deal with a new embarrassment, a new big problem.  And on every occasion, the common denominator has to do with money…  Well, some things should be above money and some candidates for significant offices should follow the main principle that made America great over the last 250 years, the principle of meritocracy, along with the principle of good governance, the main reasons why most of our fathers and grandfathers – and some of us including yours truly – crossed the oceans in order to reach this wonderful land of opportunity.
Well, these principles received a heavy blow today by Joe Biden's announcement to nominate George Tsunis as ambassador to Greece.  Tsunis, who runs his dad's hotel business, has been an embarrassment to our community…  When we first heard the rumors back on June 15 of this year, we noted the previous embarrassment in 2013 when President Obama nominated Tsunis to be ambassador to Norway. The Senate hearing for Tsunis has remained in history, not simply for the display of incompetence by the candidate (that was colossal!) but for the fact that a rare bipartisan petition was signed to demand Obama to withdraw the nomination!! Not to mention that the Norwegians organized a huge campaign to deny Tsunis' position!! The Greeks should too – but as you will see below Menedez took care of that possibility by threatening and blackmailing Greek politicians…
Some people now believe that Tsunis has become a different person during the last few years. I even heard recently that over the summer Tsunis was undergoing a fast-paced course in diplomacy, history, geography, and geopolitics… As someone that has been through the various grades of education in the span of about 25 years all the way to the top, I have a hard time believing that a fast-track course will change much of an incompetent person…
And I am sure that the major backer of the Tsunis nomination, Senator Robert Menendez of NJ, agrees with me… How do I know he agrees with me? Because during his stay in Greece last August, where he received all kinds of honors (including one from the President of Greece), he felt he had to "strongarm" Greek political leaders of all major parties to "shut up" and accept the Tsunis nomination.  The Greek politicians had of course heard of the disaster of his previous nomination for Norway… If Senator Menendez believed that Tsunis would be a worthy and "knowledgeable" candidate at the end of his fast-track course he would not need to use the words he used in Greece talking to the highest-ranking political leaders…
Even more, he would not need to announce the nomination a few days before half the government of Greece will be in Washington DC (this coming week) to sign a major 5-year defense agreement with the United States. Menendez made it appear as if the acceptance of Tsunis will be a prerequisite for the U.S. to sign the huge MDCA deal…
Yes, dear "supporters of Tsunis" (I am talking about you Karloutsos & Co.), we do understand that almost 30% of all the ambassadorships every President assigns is given to non-career diplomats.  Yes, we know that President Trump gave almost 40% of the ambassadorships to non-diplomats.  Yes, we know that every ambassador has tens of experienced aides, especially in Athens, where the CIA alone has the largest operational base than in any other European capital!… But this last fact alone proves to all how significant the Embassy in Greece is.
What will Tsunis do when another major confrontation erupts in the middle of the night between any of the following actors in the Eastern Mediterranean: Greece, Turkey, Cyprus, Israel, Egypt, Libya, Syria, Lebanon, etc… By the time he wakes up, puts his slippers on, drinks his second cup of coffee, looks himself in the mirror, consults his 25 advisors, and picks up the phone, the world could be a step away from a regional war… And I did not even mention Kosovo, Ukraine, or Russia, which are just a step away from Athens – and clearly belong to the Greek Embassy's range of responsibilities…
All these of course will be problems IF he is confirmed by the Senate – a very dubious proposition and a very big IF… Some say that Menendez had to nominate Tsunis because of the truckload of money he and Biden got from him (isn't there a conflict of interest?) but he does not seriously expect Tsunis to be successful in the confirmation hearing…  If he does pass the confirmation hearing, God help Greece, America, and all of us!!
PS. Above all we understand that Karloutsos & Co. will not miss the opportunity in a Tsunis ambassadorship to do some serious "business" – the way they mean it…
October 8, 2021, n.stamatakis@aol.com   www.helleniscope.com
Those interested to see how BIG was the embarrassment in 2013 take a look below:
 BELOW THE NEWS BY AXIOS
========================================
SOURCE: AXIOS.COM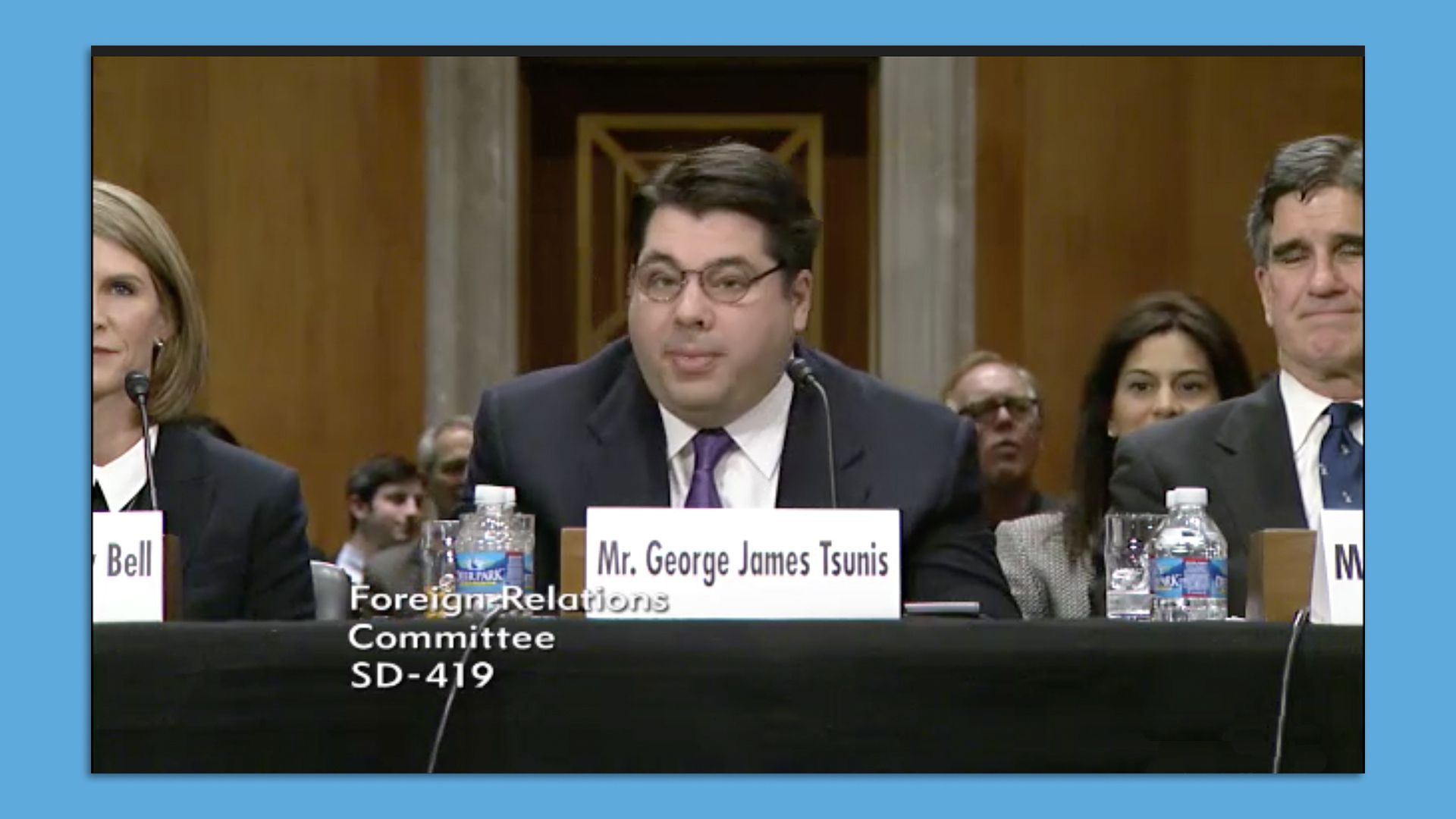 Photo: Senate.gov
President Biden plans to nominate hotel executive and major Democratic donor George Tsunis as his envoy to Greece, according to people familiar with the matter.
Why it matters: Senate Foreign Relations Chair Robert Menendez (D-N.J) had pushed Biden to pick Tsunis, and now Tsunis has a second chance to prove he's worthy of serving as an ambassador after his failed nomination under President Obama.
Tsunis was Obama's choice for Norway in 2012, but he stumbled in his confirmation hearing. Republican Sen. John McCain — and the entire country of Norway — pounced, and Tsunis' nomination languished.
The nomination, expected this afternoon, will come before the Greek foreign minister arrives in Washington to sign a renewed Mutual Defense Cooperation Agreement on Oct. 14 that will bolster the U.S. Navy's presence in Souda Bay on the coast of Crete.
Between the lines: Tsunis was born in Queens, but Greek was his first language and he didn't learn English until he went to kindergarten.
Tsunis is deeply involved in a variety of Greek causes in the U.S. and served as the vice chair of the Hellenic American Leadership Council.
If confirmed by the Senate, Tsunis would replace Ambassador Geoffrey R. Pyatt, a career foreign service officer who also served as ambassador to Ukraine.
The big picture: Biden, who promised to rebuild the state department and reinvigorate diplomacy, is naming ambassadors at a much slower rate than his predecessors.
Republicans in the Senate are also slowing the confirmation process with Sens. Ted Cruz (R-Texas) and Josh Hawley (R-Mo.) vowing to erect procedural roadblocks on all nominees in an attempt to extract policy and personnel concessions from Biden.
Go deeper: In announcing his ambassadorial picks, Biden has been pairing political ambassadors with professional diplomats and will likely make non-career nominations for about 30% of the roughly 190 total ambassadorships, leaving 70% for foreign service officers.
That 70:30 ratio would be in line with the traditional breakdown, according to the American Foreign Service Association.
President Trump nominated political ambassadors for about 44% of his appointments.
For non-career ambassadors, Biden is picking more politicians, like LA Mayor Eric Garcetti (D) for India and former Sen. Jeff Flake (R-Ariz.) for Turkey, than pure political donors.