Shamelessly Pat. Bartholomew Supports the Turk Tatars of Ukraine – Not one word about the 150.000 Greeks of Eastern Ukraine!!!
By Nick Stamatakis
Acting more like a DC "Deep State" operative than a religious leader, after having done everything possible to divide Ukrainians according to their religious affiliations, suddenly Pat. Bartholomew, who will stay in history as the worst Patriarch Orthodoxy has had for at least a century, now urges all Ukrainians to "stay united"…  Three years ago he gave "autocephaly"/"cacocephaly" to the 20% of Ukrainians, while over 70% are still today under the Moscow Patriarchate and by doing so he caused the "Schism" in the Orthodox World – following the directives from unscrupulous actors playing dirty games in Washington DC and beyond…
And he is also acting as one of the worst traitors Hellenism ever had – and we all know that, among our many accomplishments, we Greeks invented the act of treason – with the most famous case that of Ephialtes in Thermopylae…  If you read the statement below you will see that Bartholomew also met and had very kind words to exchange with an MP representing the Tatars of Ukraine… Yes, my friends, Bartholomew cares about the Tatars, THE TURKS, living in Ukraine, as the good Turk that he himself is… Not one word for the 150.000 Greeks of mostly Eastern and South Ukraine (who are very active with their Greek schools and Churches)… Why? because 95% identify with the Russians, speak Russian, and are under the Moscow Patriarchate!!  So Pat. Bartholomew disgustingly supports the rights of the Turk Tatars… God knows how many times in history the Greeks had fought these barbarians…   So shameful!!!
Pat. Bartholomew is now cornered: No matter what happens in Ukraine he loses.  If war happens, Russia will occupy any part of Ukraine she wishes. At a minimum (and Biden gave out the "secret" yesterday), Russia will be allowed to make a "minor incursion" into Ukraine… Does anyone really think that Putin will leave the 70% of Orthodox under Moscow Patriarchate unprotected?  There are plenty of related statements already by Russian officials demanding Ukraine to allow the Russian language – which is now prohibited!!
The time of reckoning is near….
Below is the news from fosfanariou.gr – the "official" website of the Istanbul Patriarchate IN ENGLISH AND GREEK…
=========================
SOURCE – FOSFANARIOU.GR
Οικουμενικός Πατριάρχης προς Ουκρανούς Βουλευτές: "Να παραμείνετε ενωμένοι κάτω από την σημαία της Ουκρανίας"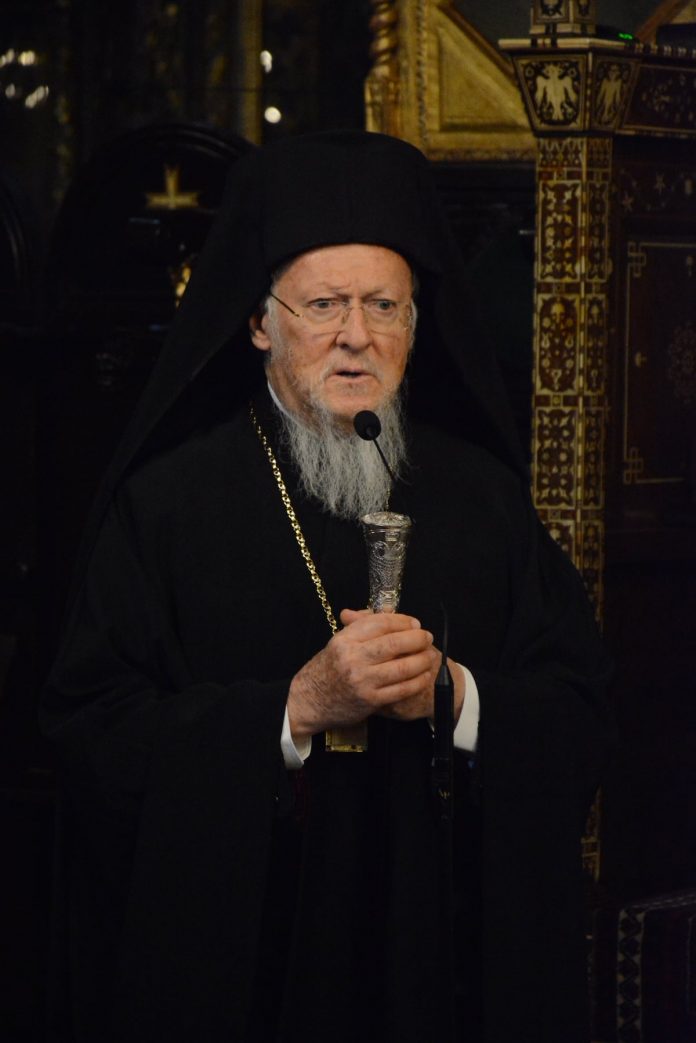 ΟΙΚΟΥΜΕΝΙΚΟΝ ΠΑΤΡΙΑΡΧΕΙΟΝ
Την προτροπή να παραμένουν όλοι οι Ουκρανοί ενωμένοι, ανεξαρτήτως της πολιτικής τοποθέτησής τους ή της θρησκευτικής πίστης τους, απηύθυνε η Α.Θ.Παναγιότης ο Οικουμενικός Πατριάρχης κ.κ. Βαρθολομαίος κατά τη διάρκεια συναντήσεώς του με διακομματική ομάδα Ουκρανών βουλευτών την Πέμπτη, 13 Ιανουαρίου 2022, στο Φανάρι.
"Είσαστε και πρέπει να παραμείνετε ενωμένοι κάτω από την σημαία της Ουκρανίας. Ανεξαρτήτως από τις θρησκευτικές πεποιθήσεις και τις πολιτικές σας προτιμήσεις είσαστε ενωμένοι κάτω από την σημαία της Ουκρανίας, είσαστε μία κυρίαρχη χώρα. Προσευχόμαστε για την εδαφική ακεραιότητα της χώρας σας. Μην ανησυχείτε. Ο Θεός είναι μαζί σας", επεσήμανε ο Παναγιώτατος, ο οποίος, μεταξύ άλλων, μίλησε για την πρόσφατη επίσκεψή του στο Κίεβο, εκφράζοντας την ικανοποίησή του για την πρόοδο της Αυτοκέφαλης Ορθοδόξου Εκκλησίας της Ουκρανίας.
Εκ μέρους των βουλευτών μίλησαν οι Εντιμ. κ.κ. Rustem Umerov και Roman Hryshchuk, οι οποίοι ευχαρίστησαν τον Παναγιώτατο για το ενδιαφέρον και την υποστήριξή του προς τη χώρα τους. Επίσης, με θερμούς λόγους μίλησε και ο Εντιμ. κ. Mustafa Dzemiliev, μουσουλμάνος βουλευτής και επί κεφαλής των Τατάρων παγκοσμίως.
Στη συνάντηση παρέστησαν, επίσης, και ο Σεβ. Μητροπολίτης Γέρων Χαλκηδόνος κ. Εμμανουήλ, πολλάκις επισκεφθείς την Ουκρανία, καθώς και ο Γενικός Πρόξενος της Ουκρανίας στην Πόλη, Εντιμ. κ. Roman Nedilskyi και στελέχη του Προξενείου.
==============================
Ecumenical Patriarch to Ukrainian MPs: "Stay united under the flag of Ukraine"
SOURCE – FOSFANARIOU.GR
The urge for all Ukrainians to remain united, regardless of their political position or their religious faith, was addressed by A.T. Panagiotis, the Ecumenical Patriarch. Bartholomew during his meeting with a cross-party group of Ukrainian MPs on Thursday, January 13, 2022, in Fanari.
"You are and must remain united under the flag of Ukraine. Regardless of your religious beliefs and political preferences, you are united under the flag of Ukraine, you are a sovereign country. We pray for the territorial integrity of your country. Do not worry. "God is with you," said His Holiness, who, among other things, spoke about his recent visit to Kiev, expressing his satisfaction with the progress of the Autocephalous Orthodox Church of Ukraine.
Edim spoke on behalf of the deputies. Mr. Rustem Umerov and Roman Hryshchuk, who thanked His Holiness for his interest and support to their country. Edim also spoke with warm words. Mr. Mustafa Dzemiliev, Muslim MP and leader of the Tatars worldwide.
The meeting was also attended by Rev. Metropolitan of the Elders of Chalkidona Mr. Emmanuel, you have visited Ukraine many times, as well as the Consul General of Ukraine in the City, Edim. Mr. Roman Nedilskyi and officials of the Consulate.